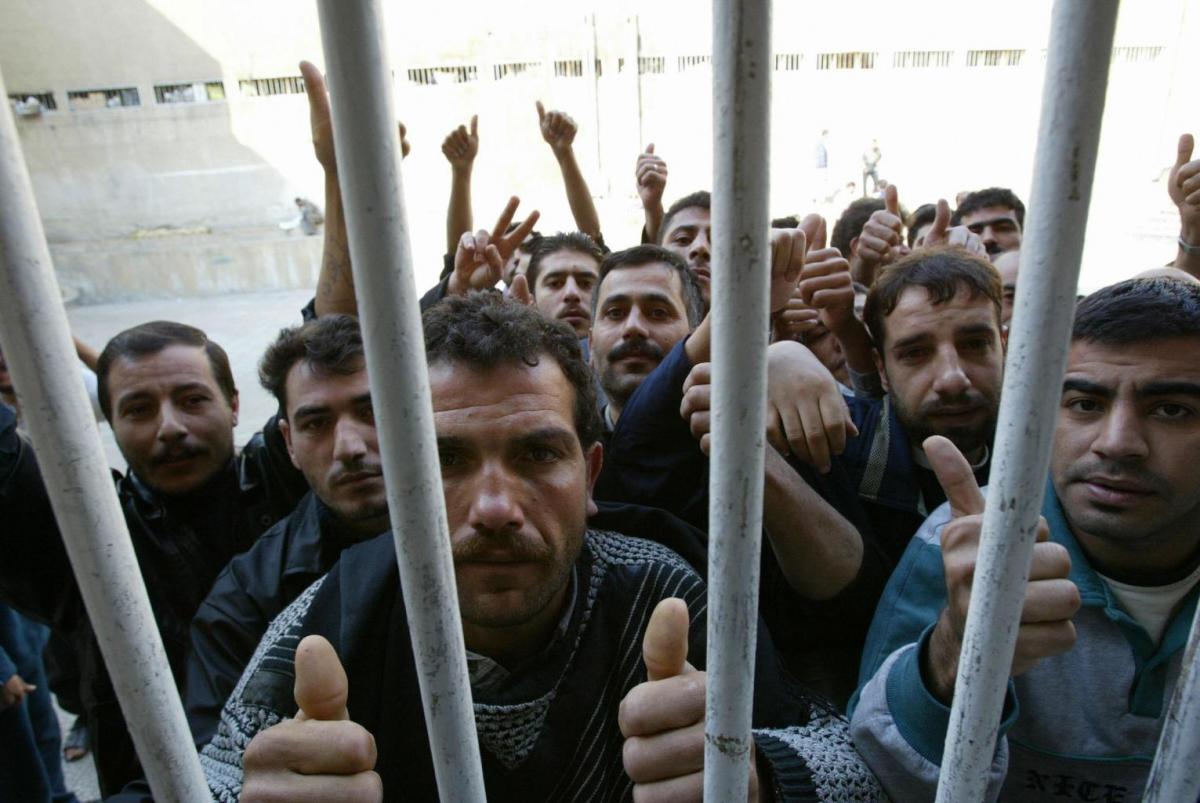 French prosecutors issued international arrest warrants for three prominent Syrian officials charged with collusion in crimes against humanity on Nov. 5, in what human rights lawyers are calling a major victory in the pursuit of those believed responsible for mass torture and abuse in the regime's detention facilities. The arrest warrants name three leading security officials—including Ali Mamlouk, a former intelligence chief and senior adviser to President Bashar al-Assad, as well as head of the Air Force Intelligence security branch, Jamil Hassan. A third, Abdel Salam Mahmoud—an Air Force Intelligence officer who reportedly runs a detention facility at al-Mezzeh military base in southwest Damascus—was also named. Hassan and Mamlouk are among the most senior Syrian officials to receive an international arrest warrant throughout the course of the conflict. Air Force Intelligence chief Hassan is already the subject of another warrant issued by German prosecutors earlier this year. Both men have been sanctioned by the international community for their role in abuses since the first outbreak of unrest in Syria in spring 2011.
Enforced disappearance, torture and murder
The new arrest warrants relate to the case of French-Syrian dual-national father and son, Mazen and Patrick Dabbagh, who were forcibly disappeared in November 2013 and held at a detention facility within al-Mezzeh military base. Five men claiming to be from Air Force Intelligence arrested Patrick Dabbagh, then 20, at his home in the al-Mezzeh neighborhood of Damascus in the middle of the night. The following day, a dozen armed soldiers returned to the house and arrested Mazen. Both father and son were never seen again.
In July 2018, the Dabbagh family obtained documents indicating that Mazen and Patrick had died in detention in November 2017 and January 2014 respectively.
Mamlouk, Hassan and Mahmoud have been charged with responsibility in the "enforced disappearance, torture and subsequent murder" of Patrick and Mazen Dabbagh, according to French human rights lawyer Clemence Bectarte. French prosecutors pursued the case according to the legal principle of "passive personality," meaning that the victims' dual citizenship allowed for their case to be tried in France.
Bectarte said the warrants demonstrate that "national prosecutions are moving forward in concrete investigations—collecting evidence, collecting testimonies from survivors, collecting documentation [already being] done by Syrian activists."
Other cases related to the Syrian conflict have followed the legal principle of "universal jurisdiction," whereby some crimes are deemed sufficiently egregious—including war crimes, crimes against humanity, and other serious violations of international human rights law—that courts outside of the country where the crime was perpetrated can exercise jurisdiction.
Since the beginning of the uprising and ensuing conflict in 2011, the Syrian government has arrested and forcibly disappeared tens of thousands of people, with unknown numbers of detainees subsequently dying in detention as a result of torture, executions and other abuses.
The Assad government is linked to at least 66,922 cases of forced disappearance since 2011—92% of all missing persons cases in Syria, according to the Syrian Violations Documentation Center. The Syrian Network For Human Rights has meanwhile reported that 81,652 people were disappeared between March 2011 and June 2018, although many researchers believe the true number could still be tens of thousands higher.
Beyond disappearances, the Assad government has also been accused of committing atrocities against detainees, with some of the most egregious cases of torture and sexual violence detailed in an Amnesty International report in February 2017. The Amnesty investigation charged the Syrian government with torture and extrajudicial killings on a massive scale at the Saydnaya prison on the outskirts of Damascus. Between 2011 and 2016, the report said, at least 13,000 people were tortured in Saydnaya alone, before being summarily tried in three-minute military trials, and then and executed on the spot by hanging from the ceiling.
A message to the victims
Lawyers and human rights groups have lauded the new arrest warrants for Mamlouk, Hassan and Mahmoud. "It'ss one of the strongest messages to the Syrian government firstly, [as well as] other perpetrators from other parties," said Bassam al-Ahmad, co-founder and executive director of the Syrians for Truth and Justice monitoring group. "But I think the most important message beyond these arrest warrants is to the victims. Usually when we speak to people to collect evidence and testimony, the first question they ask is 'What will I get [out of this]?' This is a good example for them to keep supporting the efforts of documentation."
Lawyer Bectarte, who worked on the case, said one consequence will be restrictions to the movement of the three alleged perpetrators. Mamlouk visited Italy to meet with the country'sinterior minister and head of security services earlier this year, according to media reports. Mamlouk previously visited Cairo for meetings with Egyptian government officials in 2015.
However, Bectarte said, should officials like Mamlouk travel outside Syria in the future, "there would be a legal obligation to arrest them and to extradite them to France in order for them to be indicted and tried in France."
There could also be the possibility of in absentia trials for the alleged perpetrators, she added.
Sara Kayyali, Syria researcher with Human Rights Watch, also said that the arrest warrants are a critical step in impeding the movement of alleged war criminals like Mamlouk. "We can't have another situation where Ali Mamlouk goes to Italy and nothing happens," she told Syria Direct. "It's important to recognize that these arrest warrants are more than a political statement. They are an attempt to achieve justice and, rather than help evade it. States should be on board with it." (Syria Direct, Nov. 6)
The Assad regime is now credibly accused of genocide, with a mass extermination of detainees amply documented. Last year, a low-level solider in the regime's military was convicted of a war crime by a Swedish court. There have been no convictions of top regime officials.
Photo of hunger strikers at Syrian prison via Foreign Policy. Credit: Louai Beshara/AFP/Getty Images