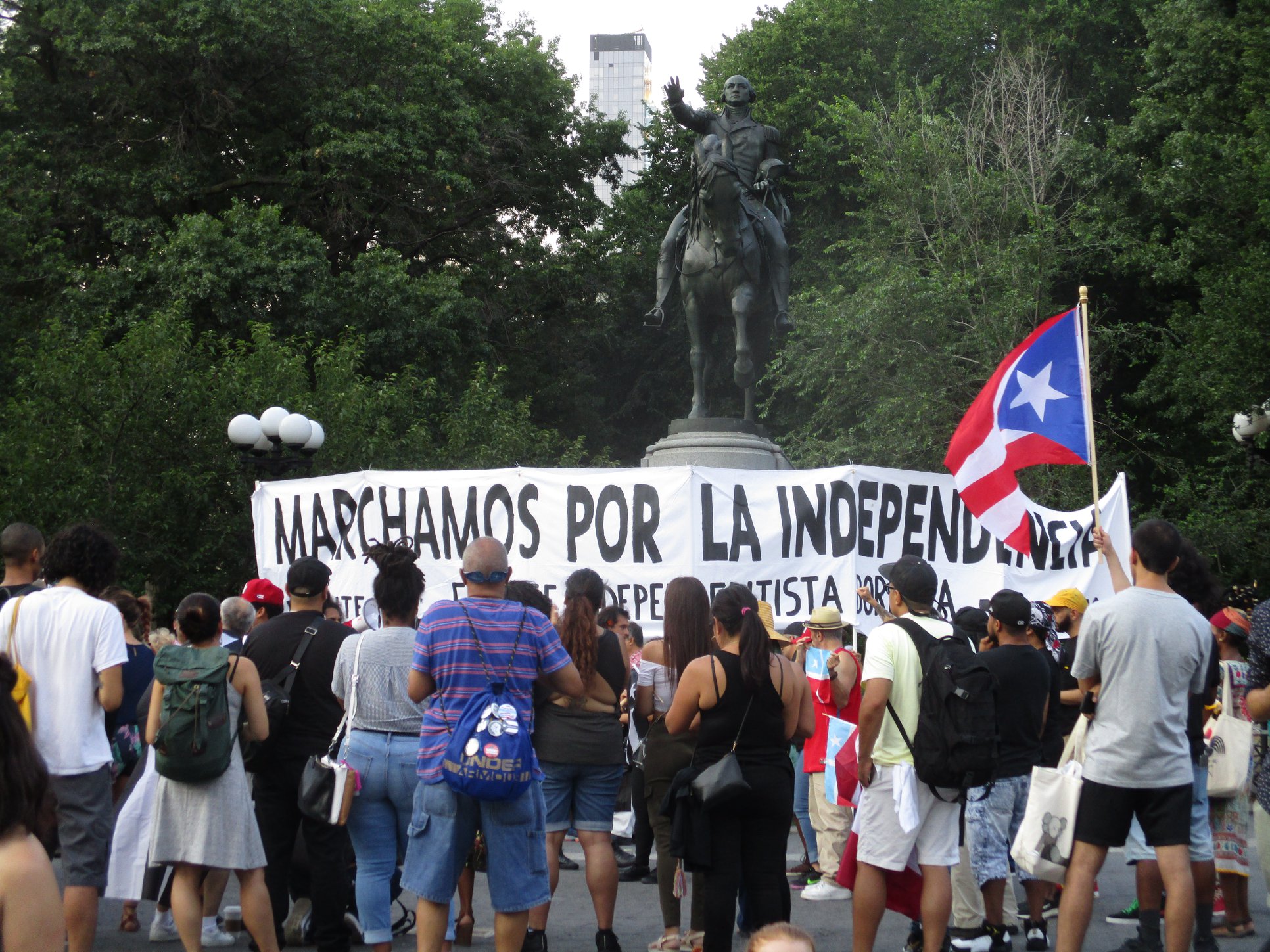 Puerto Rico on Aug. 7 swore in its third governor in less than a week, Wanda Vázquez Garced, after the removal of Pedro Pierluisi by order of the commonwealth's Supreme Court, which ruled unanimously that his appointment was unconstitutional. Pierluisi had been the chosen successor of Ricardo Rosselló of the pro-statehood New Progressive Party (PNP), who stepped down Aug. 2 following two weeks of mass protests. The protest wave began after group chats between Rosselló and his staff were made public, disclosing ugly homophobic and misogynistic comments aimed at political rivals, including San Juan Mayor Carmen Yulín Cruz of the opposition Popular Democratic Party (PPD). The comments also included cruel "humor" aimed at victims of Hurricane Maria, which devastated the island in 2017.
Pierluisi, who had been the island's resident commissioner (non-voting member of the US Congress) with the PNP, was appointed secretary of state by Roselló just before his resignation—making him next in line in the succession. He was then immediately sworn in as governor because the legislature was not in session to confirm his appointment, leading to a lawsuit by Puerto Rico's Senate to remove him. But Vázquez, who had been Rosselló's secretary of justice, is also viewed with suspicion by the protest movement. (Jurist)
The protests to demand Rosselló's resignation brought unprecedented numbers to the streets. Protesters mobilized on motorcycles, horseback, jet skis, and even took over a cruise ship to call on the embattled governor to step down. His capitulation to the pressure, announced July 24, makes him the first governor to resign in the island's history. The 889 pages of text messages, uncovered by Puerto Rico's Center for Investigative Journalism, were released shortly after two members of Roselló's administration were arrested by the FBI in connection with a corruption scandal.
A popular chant at the prottests has been "Ricky renuncia y llevate la junta" (Ricky resign and take the board with you)—a reference to the Financial Oversight and Management Board, established by Congress in 2016 to impose fiscal austeirty in response to the island's ongoing economic crisis.
At a solidarity rally in New York City on July 22, hundreds of members of the Puerto Rican diaspora and allies gathered at Columbus Circle in the rain. They waved Puerto Rican flags, chanted, banged on pots and pans, played panderos and guiros (tambourines and gourds) and danced, to express support for the protests on the island. "The blanket of fear has been removed and people are coming together," Power Malu of NY Boricua Resistance, one of the groups that organized solidarity protest, told The Villager.
Subsequent solidarity mobilizations in New York grew larger. On the same day Rosselló resigned, a rally was held in Union Square by Frente Independentista Boricua, openly calling for Puerto Rico's independence from the United States.
The Puerto Rican Independentista Party (PIP), although the smallest of the island's three major parties, has been taking initiative in the current crisis. As demands mounted for Rosselló's resignation, the PIP issued a call for changes to the island's constitution, allowing special elections to elect a new governor when a vacancy occurs in the office, as well as recall referenda so that the people can dismiss a governor and arrange for a second election. (El Nuevo Herald, July 16)
The political crisis is direct fallout from Hurricane Maria, which researchers are linking to climate change—with grim implications for the future of the island and Caribbean region as a whole. A new study published in Geophysical Research Letters analyzing Puerto Rico's hurricane history finds that Maria had the highest average rainfall of the 129 storms to have struck the island in the past 60 years. A storm of Maria's magnitude is nearly five times more likely to occur now than during the 1950s—an increase due largely to the effects of human-induced warming. (PhysOrg, April 16)
Photo of NYC rally for Puerto Rican independence by CounterVortex