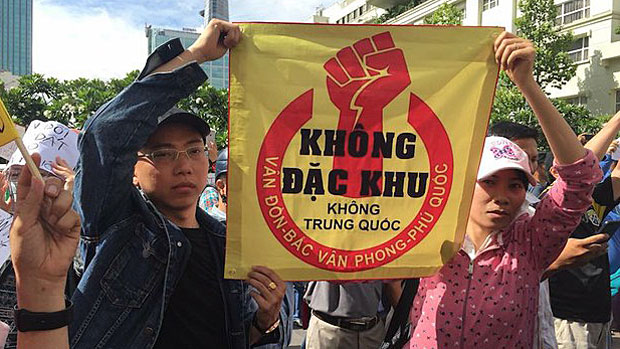 by Vu Quoc Ngu, Waging Nonviolence
"An Arab spring has started to emerge in Vietnam," said Pham Chi Dung, a former member of the ruling Communist Party, following the largest and most widespread protests in years.
Over the weekend of June 9-10, tens of thousands of Vietnamese took to the streets across the country to protest two bills on cyber security and the creation of new special economic zones, or SEZs. The protest began with the participation of around 50,000 workers from the Pouchen footwear factory in Tan Tao industrial zone in Ho Chi Minh City, the biggest economic hub in the Southeast Asian nation.
Thousands of people gathered in Hanoi, Ho Chi Minh City, Danang, Nha Trang and other cities, chanting and carrying banners that read "Say no to bill on SEZs," "No land lease to China even for one day," and "Cyber security law means silencing people."
Continue Reading

MASS PROTESTS SWEEP VIETNAM