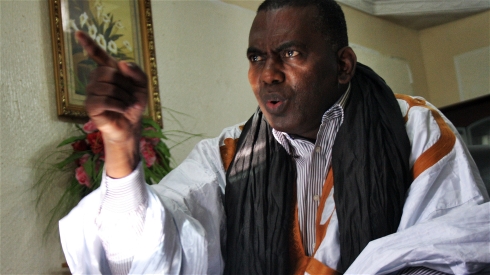 from IRIN
NOUAKCHOTT — The latest arrest of a group of prominent anti-slavery activists in Mauritania has once again brought to the fore the country's struggle with slavery and discrimination based on color. The Global Slavery Index classifies Mauritania as the most egregious offender when it comes to modern slavery, with 155,600 people still living in enslavement or about 4% of the population. The index defines slavery as the status of a person who is owned by another, which could also include practices similar to debt-bondage, forced marriage, and slavery based on descent.
Several veteran activists were arrested on Nov. 11 near the Mauritanian city of Rosso, on the Senegalese border. They were crisscrossing the Senegal River Valley holding public meetings and rallies to raise awareness about the need for land reform to benefit former slaves. People descended from slaves are often the victims of discrimination and have difficulty gaining access to land.
Senegal River Valley is the site of some of Mauritania's best (and only) agricultural land, since the Sahara desert covers more than three-quarters of the country.
Continue Reading

MAURITANIA: CRACKDOWN ON LAND STRUGGLE