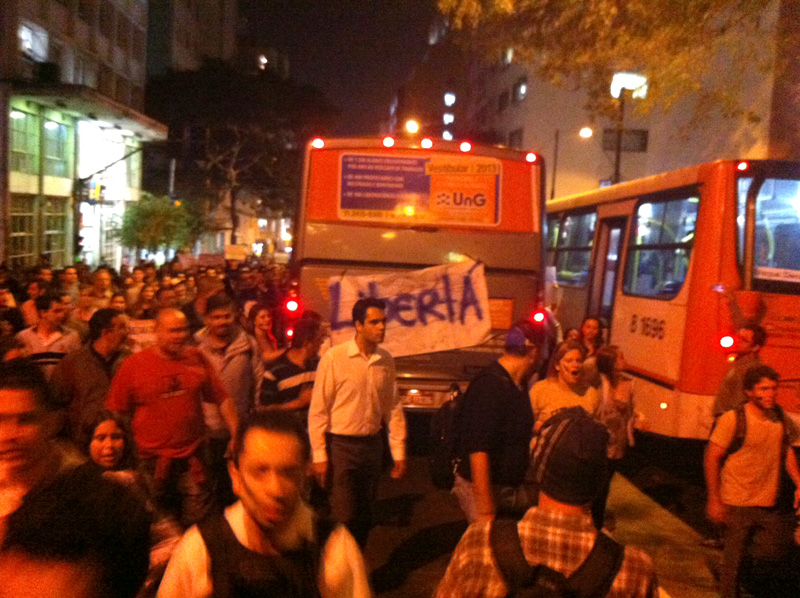 by Euan Gibb, Socialist Project
São Paulo has some of the worst traffic in the world. Workers' daily commutes can be over two hours—one way—without ever leaving the city. Rain or traffic accidents can easily increase a commute to over four hours. Streets become so congested during peak hours of traffic that the local news stations report on the length of kilometers of stopped cars and trucks on the highways entering the city. There are permanent signs mounted beside these highways with lights that can be turned on and off indicating that "traffic is stopped in front." São Paulo has the highest per capita density of private helicopters in the world. Those with serious money in this extremely rich and unequal city choose the option to literally fly over the traffic jams.
People traffic can be equally awful. Despite an extensive underground metro and many bus lines (with 60 kilometers of dedicated lanes, diesel, bio diesel, and electrified buses, double and even triple length articulated buses) in São Paulo, buses and subways fill to the point of internal pressure. Line-ups to get on the subway can be as long as two hours while buses that are filled beyond capacity roar past line-ups of passengers standing at the bus stop.
Continue Reading

BRAZIL: PRIVATE TRANSIT, PUBLIC PROTESTS