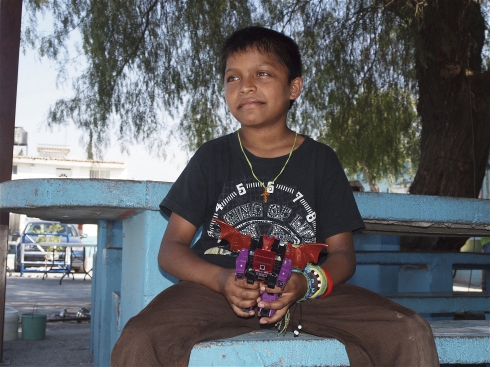 by Philippa Garson, IRIN
NEW YORK — Fleeing gang violence in his hometown near San Pedro Sulas in Honduras, 14-year-old Gredys Alexander Hernández tried to reach safety in the United States, only to be intercepted in Mexico and sent back. Two days later, just as he was about to re-attempt the journey, masked gangsters burst into his house and shot him dead.
Honduran police say Hernández was murdered because he had witnessed gangsters killing his sister's boyfriend. The authorities in Honduras say he failed to tell staff at the migrant processing center there that his life would be in danger if he was sent home.
Hernández's story illustrates how mechanisms put in place to stop an unprecedented influx of unaccompanied minors from Central America to the southern US border—which peaked last summer—are failing scores of children fleeing violence in their native countries.

In response to the border crisis last year, the US set up an in-country refugee/parole program for Central American Minors (CAM), as a way for children from the violence-hit "Northern Triangle" countries of Honduras, Guatemala and El Salvador to join parents already lawfully living in the US.
It was billed as a safe and legal alternative that would deter children from undertaking the perilous journey through Mexico to the US. But the US also leaned heavily on Mexico to beef up interceptions and deportations of migrants trying to reach the border.
Mexico now deports more Central Americans than the US, including nearly 10,000 unaccompanied minors between October 2014 and March 2015. Critics argue that the mechanisms for processing asylum claims in Mexico are woefully inadequate and that many children are not being adequately screened before being sent back to danger.
The result of Mexico's crackdown has been that the numbers of Central American children reaching the US in 2015 is around half the figure that made it during the same period in 2014. In total last year, 68,000 unaccompanied children were apprehended at the border.
A 2014 report by the UN's refugee agency, UNHCR, showed that half of unaccompanied children arriving at the US border from the three Northern Triangle countries and Mexico should qualify for protection.
Meanwhile, by all accounts, the violence and societal breakdown causing children to flee have only got worse.
Since a truce between two major gangs—MS-13 and Barrio 18—broke down last year, violence in all three countries has continued to soar. Much of it is attributed to turf wars between the two gangs, which originated in Los Angeles.
In El Salvador more people were killed in May (an average of 20 a day) than in any month since 1992. Honduras has one of the highest murder rates in the world, with over 100 people killed in the first 10 days of the year; and violence in Guatemala was worse this January than last, also in large part due to rivalry between the two gangs, which have links to global organised crime networks.
While the violence has continued, not one child from the three eligible countries has yet to join his or her parents in the US as a result of the CAM program, although more than 2,000 individuals have applied.
The refugee organizations tasked with implementing the program have reported a steady uptick in applications as news of its existence spreads, but only a handful have reached the interview stage and agencies say no children are expected to arrive in the United States before the end of the year.
The process is lengthy and laborious, involving DNA testing of parents and children, medical and security checks and many other administrative hoops. Furthermore, CAM is capped at only 4,000 applications this year.
IRIN contacted several of the organizations involved—all of them NGOs that receive state funding to implement refugee resettlement programs—but none would facilitate interviews with parents trying to reunite with their children. Staff members said parents were afraid that a media interview could endanger their children or jeopardise the outcome of a yet-to-be-approved application.
"It's a political programme, not a humanitarian one," commented Refugee International's senior advisor on human rights Sarnata Reynolds, who visited El Salvador recently.
"It's a long procedure, and children who are being murdered, raped and recruited into gangs don't have this kind of time. In the long run, it's good that this program exists, but it doesn't do anything for all those children on the run."
Reynolds argues that the US must stop pressuring Mexico to deport children and instead offer its assistance for processing asylum claims more effectively.
The program isn't mean to protect
El Salvador has few safe havens for children fleeing violence. Boys under 12 are not allowed into shelters for domestic violence, yet those as young as eight are being recruited into gangs, said Reynolds. Gangs frequently target children for having witnessed murders, as was the case with Hernández.
Noah Bullock, executive director of Foundation Cristosal in El Salvador, said the embassy is urging his organization to send candidates for the CAM program, but "so far we haven't found any that fit the criteria."
Bullock said one of the weaknesses of CAM is that it is a family reunification program rather than a protection program, despite being billed as the latter. He added that those facing persecution and extortion by gangs tend to be family units rather than minors with parents in the US. "We are getting calls every day from people saying we need to leave now," he told IRIN.
Ana Acosta, assistant national director of Casa Alianza in Honduras, an organisation that helps homeless teenagers and children, said that CAM is not being widely promoted in her country and most people don't know about it. She added that it would not help the many young people fleeing violence in Honduras whose parents are living in the US illegally and would therefore "continue to search for reunion in an irregular manner," rather than through CAM.
The CAM program is just one of many solutions needed to address the problem of Central American children fleeing violence, said Stacie Blake of the US Committee for Refugees and Immigrants (USCRI), one of the implementing agencies. "There is no way this program is going to meet the need of someone in danger of violence," she told IRIN, adding that it could however stop some children embarking on the "treacherous journey with smugglers through Mexico."
She acknowledged that the length of time it was taking to process applications was cause for concern.
Other proposals put forward by the USCRI include automatically extending the temporary protected status of parents to their children, and introducing a "lottery" system like the US brought in 34 years ago to stop Cubans embarking on the dangerous journey across the sea to reach its shores.
Blake conceded that none of these solutions address "the immediate protection problems on the ground."
A USD$1 billion aid package proposed by US President Barack Obama, designed to boost economic development, strengthen civil society institutions and beef up security in the three Central American countries, is unlikely to offer relief anytime soon.
Although a key Senate panel approved $675 million [in July], it is expected to be mired in budgetary disagreements in Congress and is unlikely to be approved this year, said Marc Rosenblum of the Migration Policy Institute. He anticipated that the bulk of the funding will in any case go towards security rather than the kind of "deep development" needed to address the root causes of the violence.
———
This story first ran July 17 on IRIN.
Photo: Eleven-year-old Allan's older brothers were slain by drug gangs in Guatemala. An influx of child migrants at the border last year has resulted in record numbers of minors being detained in Mexico. Credit: Amy Stillman/IRIN
From our Daily Report:
El Salvador rules street gangs are 'terrorist groups'
World War 4 Report, Sept. 11, 2015
Honduras: AFL-CIO blames trade policies for crisis
World War 4 Report, Feb. 17, 2015
Central America: US returns migrants to danger
World War 4 Report, Oct. 21, 2014
See also:
SO MUCH FOR SANCTUARY
How an EU Asylum Rule 'Results in Death'
by Kristy Siegfried, IRIN
World War 4 Report, September 2015
U.S. FAILING SYRIAN REFUGEES
by Philippa Garson, IRIN
World War 4 Report, June 2015
U.S. STILL SUPPORTS HONDURAN DEATH SQUADS
by Lauren Carasik, Jurist
World War 4 Report, May 2013
—————————-
Reprinted by World War 4 Report, Sept. 12, 2015