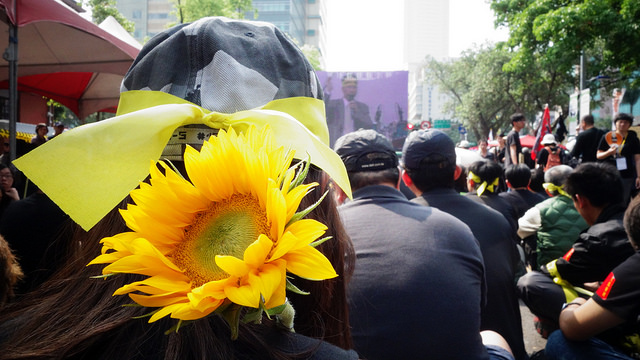 Looking Back and Forward Through Sunflower-Colored Glasses
by Ian Rowen, American Citizens for Taiwan
Taiwan before the Sunflower Movement seems almost a bad and distant memory. Just a year ago, ruling party Kuomintang (KMT) legislator Chang Ching-Chung was nearly able to ram the Cross-Strait Services Trade Agreement (CSSTA) through the committee review process in 30 seconds. Legislative Speaker Wang Jin-Pyng was facing expulsion from the KMT. President Ma Ying-jeou was still making serious efforts to meet with China President Xi Jinping and push a "peace treaty" that would recognize Taiwan as a part of China, never mind the wishes of its people.
All of that changed on March 18, 2014, when students and civil society stormed the Legislative Yuan. A day later, I climbed a ladder to join them inside the building for what I foolishly thought might be a quick research visit, but instead turned into one of the most harrowing and exhilarating episodes in not only the lives of myself and other eyewitnesses and participants, but in contemporary Taiwanese history. No one could have predicted how different the map would look a year later, after those 24 days of peaceful, student-led occupation led the island in a new direction.
A year after students stormed the Legislative Yuan, the CSSTA is still on ice. Speaker Wang [who had offered concessions to the protesters, and blocked police from evicting them] not only retained his KMT membership, but is now being floated as a possible KMT presidential candidate (who would still lose overwhelmingly to the Democratic Progressive Party's Tsai Ing-wen, if the polls are to be trusted). Ma not only has no plans to meet Xi, but is now repeatedly humiliated by a Chinese counterpart who sees fit to redraw international flight routes and arrange ministerial-level trips without notifying his office first. No, there will be no "peace treaty" nor long-fantasized Nobel Peace Prize for Ma.
A year after students stormed the Legislative Yuan, Taiwan's electoral map has been redrawn. The unthinkable happened [in November] when the ruling KMT lost its traditional northern strongholds of Taipei, Taoyuan, and Hsinchu. Not just the opposition DPP, but the KMT's new chairman, Eric Chu, admit the need for constitutional reform. And even sober analysts like Nathan Batto entertain the possibility that the pan-green camp may not only re-take the presidency in 2016, but for the first time, win a legislative majority.
A year after students stormed the Legislative Yuan, Ma has relinquished his chairmanship of the KMT. His closest aides, National Security Council chair King Pu-tsung and Mainland Affairs Council minister Wang Yu-Chi, have stepped down from their posts. KMT-affiliated businessmen like Farglory CEO Chao Teng-hsiung, and the Ting Hsin food conglomerate-owning Wei family have been indicted for bribery and food safety scandals.
A year after students stormed the Legislative Yuan, Taiwan's NGO and political party rainbow has taken on new hues. Sunflower student and civil spin-off groups like Democracy Tautin, Taiwan March, Democracy Kuroshio, and Formoshock continue grassroots activities. The Green Party and Tree Party have won seats in office. The New Power Party and the Social Democratic Party are fielding candidates in upcoming elections.
But as much as things have changed, there are still many unanswered questions.
A year after students stormed the Legislative Yuan, how will Taiwan manage key trade and other relations with China? With the KMT-led blue camp in disarray, what group can force the DPP to up its game or risk losing the next election? With Ma's time in power running out, what moves will he make while he still has executive privilege and legislative influence? With the post-Sunflower movement split into a variety of camps, how will they contend or cooperate in coming social movements and elections? And what of the 118 activists who are facing criminal charges for their role in the movement, while the politicians and police who ordered and implemented the violent crackdown in the Executive Yuan on last year's March 23 walk free, seemingly immune to prosecution for violence in the name of the state?
A year after students stormed the Legislative Yuan, have Taiwan's relations with China entered a "period of uncertainty," as Mark Harrison wrote in The China Story? After seeing its annexation strategy fall apart, how will China prepare for and react to a likely incoming DPP administration?
Only time will tell. But the fact that these questions must now be asked shows how much has changed in the last year, and how high the stakes remain not just for Taiwan and China, but the US. Like China, the US should prepare to adjust not only to a likely new DPP administration, but an emerging new generation of future leaders in a re-energized civil society. As last year's election demonstrated, the Sunflowers were not just a brief flash in the pan, but the beginning of a new chapter in Taiwan's social and political history. A year has nearly passed, and the US, long the Republic of China's patron, has some catching up to do.
———
Ian Rowen is Visiting International Scholar at the Taiwan Foundation for Democracy, Visiting Associate at the Institute of Sociology at Academia Sinica, and Geography PhD Candidate at the University of Colorado Boulder. He participated in both the Taiwan Sunflower and Hong Kong Umbrella Movements and has written about them for outlets including The Journal of Asian Studies, The Guardian, and the BBC Chinese.
This article first ran in March on the website of American Citizens for Taiwan.
Photo: tenz1225
From our Daily Report:
Taiwan: drop criminal charges against protesters
World War 4 Report, Feb. 12, 2015
See also:
TAIWAN'S ALTERNATIVE FUTURE
Revolutionary Content in the Sunflower Movement
by Wen Liu, World War 4 Report
World War 4 Report, April 2014
—————————-
Reprinted by World War 4 Report, May 16, 2015