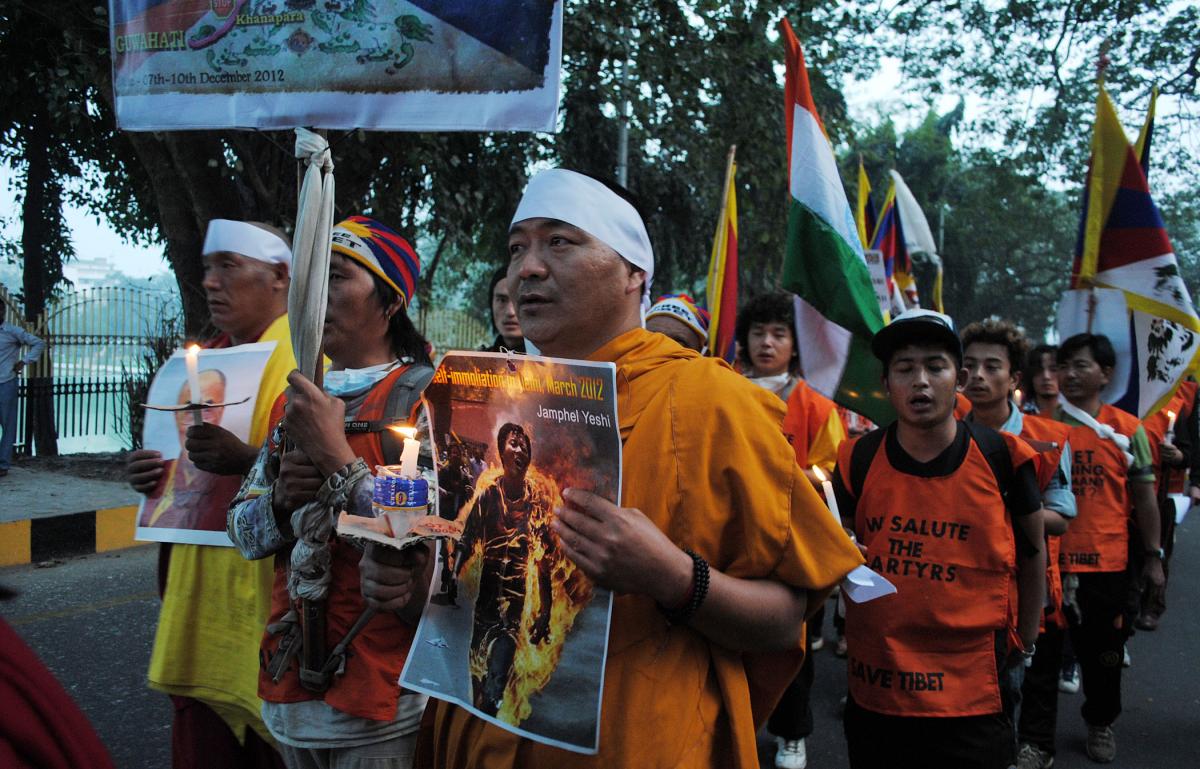 by Nava Thakuria, World War 4 Report
GUWAHATI — Tibetans across the globe celebrated the 64th World Human Rights Day on Dec. 10 with a new spirit. What was hailed as a Global Solidarity Day for Tibet was most widely observed by Tibetan exiles in India. Hundreds of Tibetans living in northeast India assembled in Guwahati, capital of Assam state, to raise their voices against the rampant violation of rights in Tibet by Chinese authorities. Cross-country marches by Tibetan protesters converged on the city from towns across northeast India, including Shillong, Tezu, Itanagar, Dimapur, Kohima and Tenzing Gang. They were unanimous in expressing profound grief that over 90 freedom-loving Tibetans have self-immolated over recent months.

"We need everybody's support for a genuine autonomy in Tibet, which should help end the wave of self-immolation inside and outside Tibet," said Lhakpa Tsering, leader of North-east Solidarity Committee for the Tibetan Cause. Addressing the gathering of nearly 500 Tibetan people in the virtual capital of northeast India, Tsering also read out a statement from Lobsang Sangay, political head of Tibetan exile administration at Dharamasala, in India's northern state of Himachal Pradesh. Sangay appealed for worldwide solidarity with the Tibet campaign: "Despite the increasing number of self-immolations, the international community remains largely unaware of what is going on inside Tibet. The Chinese government has responded to the self-immolations with further repressive policies, and sentencing of individuals suspected of having shared information regarding the self-immolations with the outside world."
Appealing to the international community to stand for justice in Tibet and the return of the Dalai Lama to his homeland, Sangay called for lobbying efforts from lawmakers and organizations such as Amnesty International, Human Rights Watch, Reporters Without Borders, and the US Congressional Executive Commission on China. Sangay expressed gratitude for positive developments over the past year, including statements of support from governments across the globe. He especially named UN High Commissioner on Human Rights Navi Pillay and the US ambassador to China, Gary Locke. He reiterated that the Tibetan campaign is not anti-Chinese, but pro-freedom, and asked for Chinese people to stand in solidarity with his people's just struggle.
United Nations human rights officials had recently called on China to allow independent rights monitors to visit Tibet. China has also barred foreign journalists from Tibet, and prevented many others from travelling to adjacent Tibetan regions, making independent verification of protests and rights abuses difficult.
The Tibetan exiles in Dharamsala also observed the day with various programs, including a candlelight vigil. Monks and nuns in traditional maroon robes participated in the vigil, along with young Tibetan children and women. Thousands of Tibetans joined in a rally at Jantar Mantar historical site in New Delhi, where Yangchen Dolkar, a lawmaker in Tibetan exile administration, addressed the gathering.
The meeting in Guwahati was followed by a public prayer and a candle light procession in the evening. Many participants staged a public hunger strike in the city the next day.
Tibetan solidarity protests were also reported from Taipei, Tokyo and New York.
———
Photo by Pitambar Newar
From our Daily Report:
China: Han-Tibetan solidarity emerging
World War 4 Report, Dec. 13, 2012
India: strange bedfellows in Bharat Bandh
World War 4 Report, Sept. 21, 2012
See also:
TIBET & ASSAM: PAWNS IN INDIA-CHINA GAME
by Nava Thakuria, World War 4 Report
World War 4 Report, August 2010
—————————-
Special to World War 4 Report, Dec. 30, 2012
Reprinting permissible with attribution