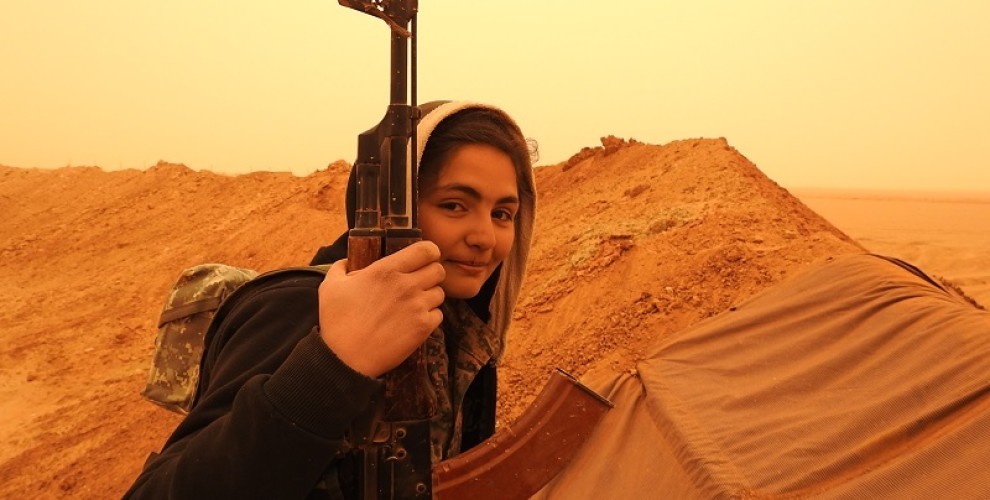 Turkish forces, backed by allied factions of the Free Syrian Army, are now in their third day of an offensive on the Kurdish-held enclave of Afrin, and have captured a number of villages—despite stiff resistance from the Kurdish YPG militia. Turkish air-strikes are making the critical difference, and are taking the predictable toll in civilian casualties. Afrin's Kurdish authorities report that a poultry farm in the village of Jalbara was hit, killing eight civilians. Turkish warplanes also struck al-Ashrafiya neighborhood in Afrin city, killing six civilians, including a child. In Ankara, Turkish President Recep Tayyip Erdogan said he would not "step back" in the assault, and claimed to have the support of the Great Powers—including both Russia, which supposedly had troops backing the YPG in Afrin, and the US, which has been backing the YPG against ISIS as part of the Pentagon-directed Syrian Democratic Forces.
"We are determined, Afrin will be sorted out," Erdogan said in a nationally broadcast address. "There's no stepping back from Afrin. We discussed this with our Russian friends, we have an agreement with them, and we also discussed it with other coalition forces and the United States."
US Secretary of State Rex Tillerson equivocated, saying Washington had proposed working with Turkey and forces on the ground in Afrin to "see how we can stabilize this situation and meet Turkey's legitimate concerns for their security."
The Turkish-backed FSA factions involved in the offensive, operating under the banner of a newly branded "National Army," are reviving the dubious claims of ethnic cleansing against the Kurdish forces. They accuse the YPG of displacing 150,000 Arab residents of villages including Tel Rifaat and Menigh to the east of Afrin, captured in 2016.
"This is an historic moment in our revolution," Mohammad al-Hamadeen, a commander in these FSA forces, told fighters in Azaz village as they prepared to join the offensive. "God willing, very soon we will return to our region that we were driven from two years ago." (Syria Direct, Reuters, BBC News)
Syrian Kurdish leaders said that the upcoming Sochi summit to advance Syrian peace talks has been rendered pointless by Russia's betrayal of Afrin. Said Aldar Khalil, a leader of the Movement for a Democratic Society (TevDem), the civil governance body for the Kurdish autonomous zone in northern Syria, known as Rojava: "Naturally in light of the Turkish attack on our areas and the Russian collusion with them, and the Russian support for them, Sochi no longer has any meaning."
The Kurdish National Alliance, a coalition that makes up the political opposition in Rojava, also announced that they will not be participating in the Sochi talks because of Russia's acquiescence in the Turkish aggression. (Rudaw)
A group of international academics and activists have launched a petition calling on world powers to act against the Turkish aggression in Afrin. Among the prominent signatories is Noam Chomsky. (ANF) What makes it complicated is that Chomsky has repeatedly abetted the war propaganda of the Assad regime, and thereby squandered his moral authority to now protest the Turkish aggression.
Over the past days that Turkey has been attacking Afrin, regime and Russian warplanes have hit rural towns and villages across rebel-held Idlib governorate—including with incendiary bombs that deliver a napalm-like payload, according to observors on the ground and rebel civil defense authorities. (Syria Direct)
We have not heard that Chomsky and his co-signatories have protested this.
Where, but where, are the single-standard anti-war voices that oppose both Turkish aggression in Afrin and Russian aggression in Idlib?
The absence of such voices every day erodes the credibility of the international anti-war forces, and heightens the threat of Arab-Kurdish ethnic war, which would be a greater disaster still for the whole region.
Photo: Kurdish militia figher at Afrin, via ANF