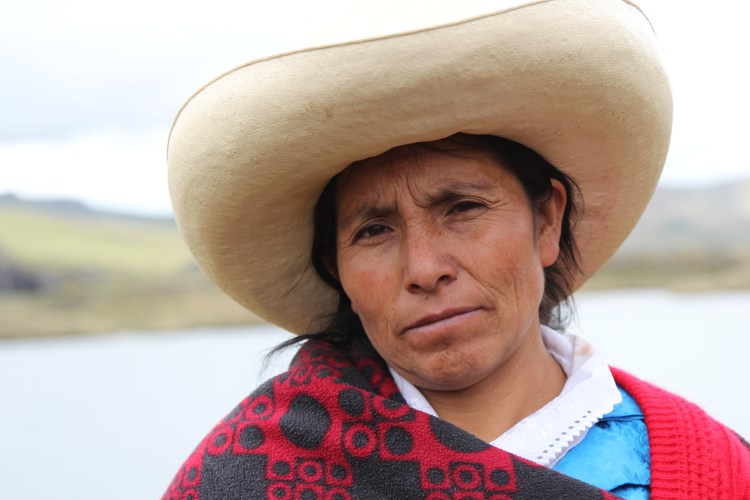 Peruvian campesina Maxima Acuña de Chaupe and her family are suing Newmont Mining in US federal court, claiming the company used violence and threats to try to evict them from their home to make way for the controversial Conga open-pit gold project. The case, filed Sept. 14 in Delaware where Newmont is incorporated, aims to "stop a pattern of harassment" by Newmont and its security personnel, said environmental group EarthRights International, which is representing the Acuña family. The suit is seeking damages of at least $75,000 for each affected member of the family.
Newmont spokesman Omar Jabara said in a statement e-mailed to Reuters that the company has "been engaged in direct, good-faith dialogue" with the family. In an e-mailed statement to Mining.com, Newmont added: "We continue to be respectful of the Chaupes while lawfully protecting our property rights, avoiding confrontation and respecting human rights."
However, the lawsuit charges Newmont with "instructing, authorizing, aiding and abetting, conspiring in and/or ratifying a violent harassment campaign" against Acuña's family. (UDW, Sept. 28)
Newmont's Peruvian partner in the Conga project, Buenaventura, is nonetheless planning on expanding its operations in Cajamarca region, announcing that it will be bidding for the $2 billion Michiquillay copper project when the auction opens in November.
Speaking at the Perumin industry convention in Arequipa, Buenaventura chairman Roque Benavides told Reuters that the company could develop Michiquillay by sharing infrastructure with two other proposed mines in Cajamarca—Conga, and the China Minmetals copper-gold project at Galeno. Buenaventura produced 127,000 tons of copper last year, mostly through its 20% stake in Freeport McMoRan's Cerro Verde mine in Arequipa. (Mining.com, Sept. 19)