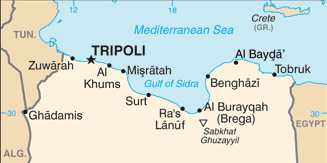 International Criminal Court (ICC) prosecutor Karim AA Khan on April 28 revealed a new strategy for the ongoing investigation into the situation in Libya to the UN Security Council. The ICC investigation focuses on accusations of war crimes and crimes against humanity committed in Libya since the outbreak of the revolution against Moammar Qaddafi's government in February 2011. The investigation also covers three unexecuted arrest warrants issued by the ICC. The ICC began its investigation in March 2011. Libya is not a party to the Rome Statute. Therefore, the ICC derives its jurisdiction for this investigation from a unanimous reference by the Security Council in Resolution 1970.
In March, the Office for the UN High Commissioner for Human Rights (OHCHR) expressedconcern over the "deepening crackdown" on civil society in Libya, including arbitrary arrests and vilification campaigns on social media. The OHCHR noted a "seriously chilling effect" on human rights defenders, humanitarian workers and other civil society actors. The UN Independent Fact-Finding Mission on Libya found in its March report that international human rights and humanitarian law are being violated in the country.
The new strategy unveiled by the ICC prosecutor places emphasis on survivors, empowering them to participate in the investigation process.
From Jurist, May 2. Used with permission.
Note: Libyan presidential hopeful is Saif al-Islam Qaddafi is among those wanted by the International Criminal Court, for alleged war crimes committed during the revolution that overthrew his father 10 years ago.