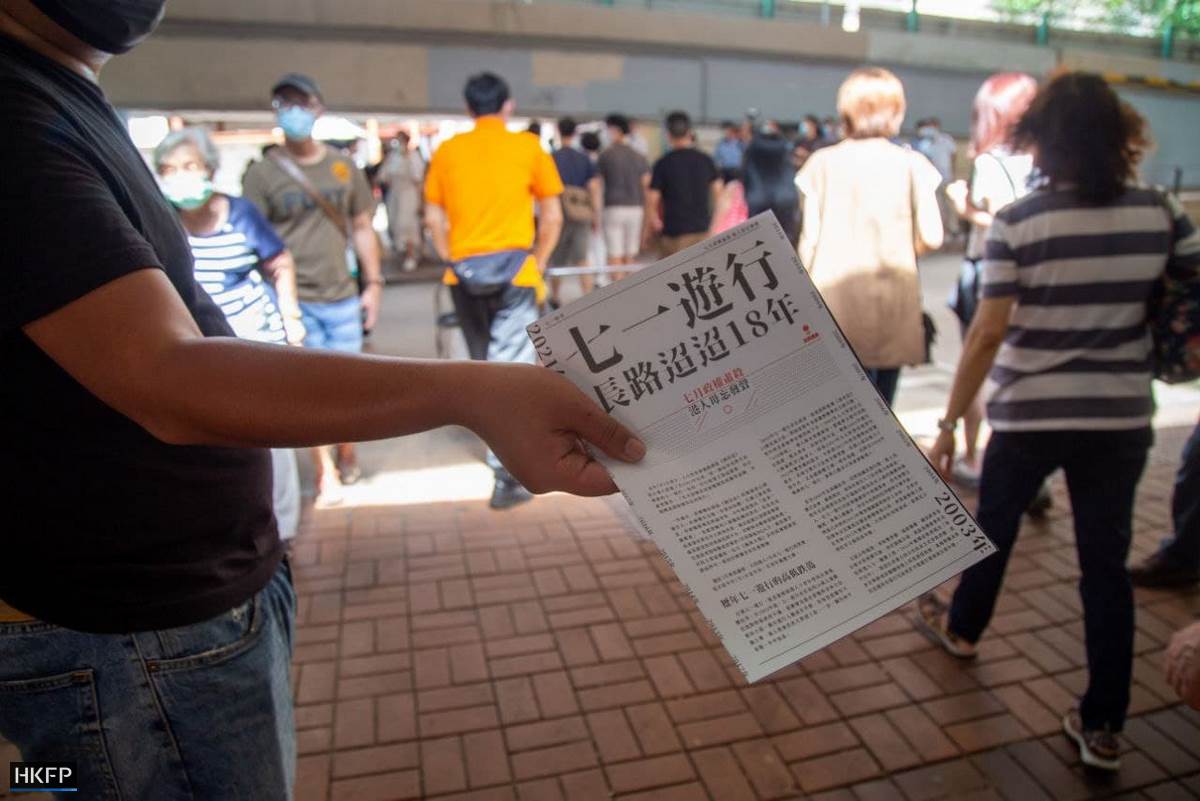 Hong Kong police arrested 11 people for distributing "seditious publications" on July 1, as the force erected tight cordons across the city on the 24th anniversary of its handover to China. Citing pandemic restrictions, the Security Bureau warned that those taking part in unauthorized demonstrations may face jail. Police pre-emptively sealed off Victoria Park—the traditional starting point for pro-democracy marches on that date—saying there had been calls online for people to join an unauthorized assembly there. But there were scattered small gatherings at other points around the city. The 11 arrests took place in Mong Kok commercial district, where a group of activists distributed leaflets. They were detained under the Crimes Ordinance, which dates to the British colonial era. Those arrested include Student Politicism leaders Wong Yat-chin and Chan Chi-sum.
In Causeway Bay, police also took away renowned activist Alexandra "Grandma" Wong after she waved a large Union Jack. Police have yet to confirm whether Wong was arrested.
Also in Causeway Bay, a man stabbed himself to death immediately after stabbing a police officer, leaving him injured in the shoulder. (HKFP, HKFP, RTHK)
Meanwhile in Beijing, President Xi Jinping uncharacteristically donned a Mao suit as he presided over a massive rally in Tiananmen Square celebrating the 100th anniversary of the founding the Chinese Communist Party. In a speech laden with revanchist grievances, he warned that foreign powers will "get their heads bashed bloody against the Great Wall of steel forged by over 1.4 billion Chinese people" if they attempt bully China.
"We have never bullied, oppressed or subjugated the people of any other country, and we never will," he added, seemingly without intentional irony, before warning of the party's "unshakeable commitment" to resolving the "Taiwan question." (BBC News, Newsweek, Reuters)
July 1 marked the anniversary of the 1921 founding of the CCP, the 1997 Handover of Hong Kong, and the passage of the National Security Law last year.
Photo: HKFP