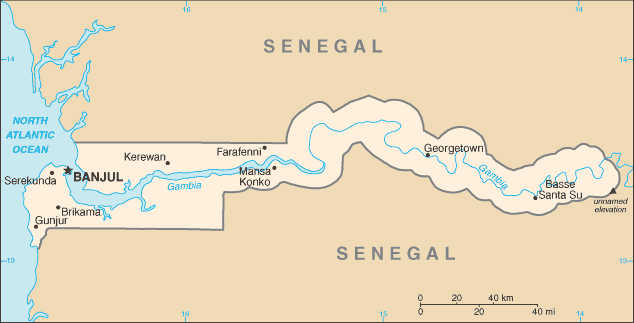 Thousands of Gambians took to the streets Dec. 16 in the capital Banjul, demanding that President Adama Barrow honor the agreement he signed with the opposition to step down after three years in office. Barrow, a relative unknown at the time, defeated long-ruling Yahya Jammeh in elections in the small West African state in 2016. He promised to rule for three years before stepping down, but he has since said he will govern until 2021, serving a full presidential term.  The protests were organized by the movement "Operation Three Years Jotna," which means "three years enough" in a mix of English and the Wolof language. It was founded this year by Musa Kaira, a Gambian businessman living in the United States.
Describing President Barrow's tenure, Madi Jobarteh, one of Gambia's most prominent human rights activists, told Al Jazeera, "In my view, his time has been a missed opportunity… What we have come to see is Barrow going against his own promises and adopting some practices of the former regime, not in terms of arbitrary arrests and enforced disappearances, but with the disfigurement of rule of law, lack of transparency and misuse of public resources."
Gambia was thrown into a constitutional crisis in December 2016, after Barrow unexpectedly defeated Jammeh in presidential elections but the strongman leader refused to step down. The dispute prompted the Economic Community of West African States (ECOWAS) to prepare for a military intervention. Barrow and the coalition of several political parties and civil society groups for which he had stood as an independent candidate made a deal to defuse the crisis. On Jan. 19 2017, Barrow was sworn in as Gambia's "transitional president" in neighboring Senegal. Days later, Jammeh fled into exile and Barrow returned home—with the understanding that he would step down in three years.
Barrow's refusal to adhere to the pact has sparked a civil backlash. In the Dec. 16 demonstration, some 10 000 Gambians of all ages marched, chanting "Three years, three years!" to the rhythm of Bob Marley music. (OkayAfrica, Sierra Leone Telegraph, Mail & Guardian, South Africa; AFP)