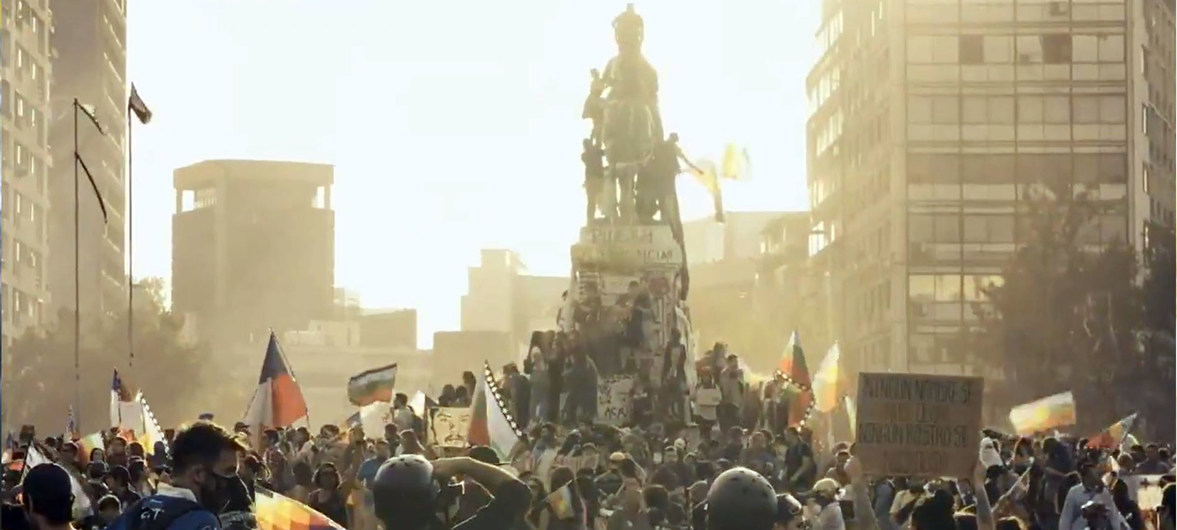 Exactly one year after a mass demonstration brought more than a million people to the streets of Santiago to demand fundamental change amid a mass uprising, Chileans voted Oct. 25 to scrap the Pinochet-era constitution and for a constituent assembly to be formed to draft a new one. An overwhelming 80% voted for the drafting of a new constitution in the two-question referendum, with a similar proportion voting in favor of the new charter being drawn up by a body to be 100% elected by a popular vote rather than one made up by 50% of members of Congress. President Sebastian Piñera signed a law last year calling for the referendum in response to the protest movement then sweeping the country.
The vote came as the protest movement, which went into abeyance with the COVID-19 pandemic early this year, has re-emerged. On Oct. 16, protesters again converged on Santiago's Plaza Italia, which had been the focal point of last year's mobilization. Amid the demonstration, the plaza's statue of Gen. Manuel Baquedano was covered with red paint. A hero of the War of the Pacific, Baquedano also carried out a counter-insurgency campaign against southern Chile's Mapuche indigenous people in 1869.
Conservative voices have expressed outrage that two churches in Santiago were set aflame during the new protests. The Catholic church in Chile was a bastion of support for the 1973-1990 dictatorship of Augusto Pinochet.
Police repression has re-emerged along with the protests. Authorities on Oct. 4 arrested an officer of the Carabineros militarized police force who allegedly threw a teen-ager from a bridge into the Rio Mapocho during a protest in Santiago. The youth suffered critical injuries, but is expected to recover.
Poverty levels have dropped dramatically in Chile over the past 20 years, and it is now South America's richest country on a per capita basis. But it remains one of the world's most unequal nations, and demands for a more equitable distribution of wealth have animated the protests. (BBC News, Catholic News Service, El Desconcierto, La Nación, La Izquierda Diario)