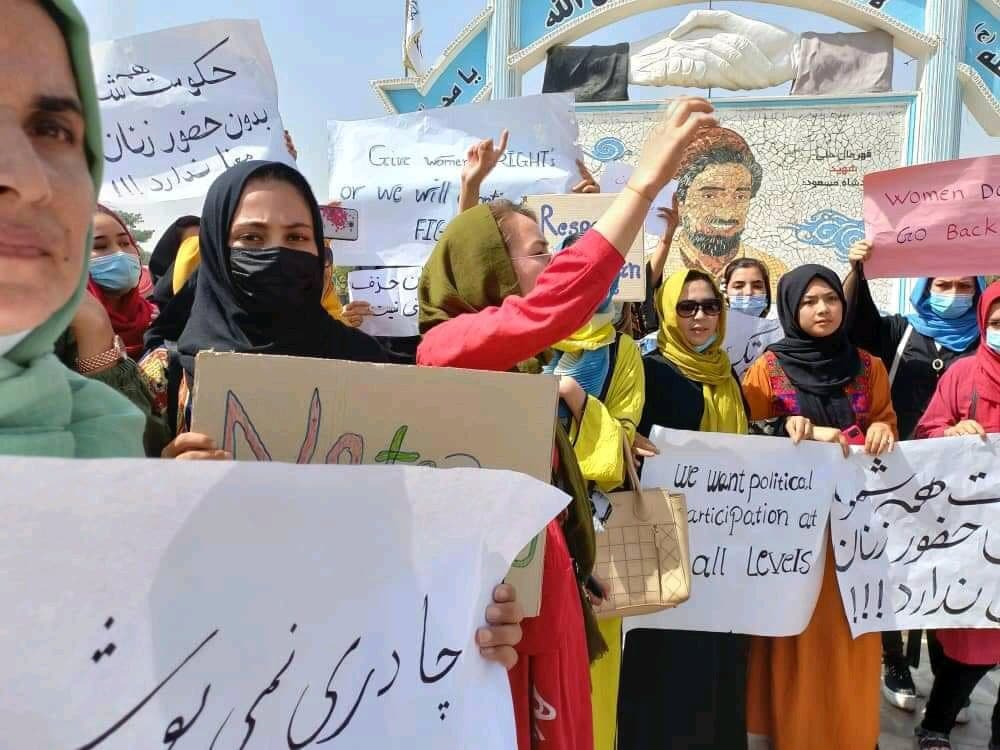 Women marched in Afghanistan's northern city of Mazar-e-Sharif Sept. 6, demanding that their rights be protected and their voices heard in the new government now being formed. Signs read  "We want political participation at all levels." They also declared that they would refuse to take the burqa, the full-body covering that was compulsory for women the last time that the Taliban were in power. Thus far, officials of the Taliban's self-declared "Islamic Emirate of Afghanistan" have only demanded that women wear the abaya in public—a less restrictive covering that may be worn with either a niqab or hijab.
At a Kabul press conference that day, Taliban spokesperson Zabiullah Mujahid said that protest is the right of all Afghans, but also called on women to be "cautious." Mujahid said that women will be given their "Islamic rights," while adding that they will have to wait for announcement of the new government to see exaclty what that will mean. (Khaama)
Two days earlier, a women's protest raising similar demands in Kabul was dispersed by Taliban fighters who fired their rifles in the air. AP reports that the demonstrators laid a wreath outside the Defense Ministry to honor Afghan soldiers who died fighting the Taliban, and then marched on toward the presidential palace. Before they could reach the palace, Taliban fighters barred their way. Activist Nargis Sadaat appeared on the local Khaama Press with a bloodied face, saying she had been beaten by the Taliban fighters.
Women also held a protest demanding their rights to work and education in the western city of Herat on Sept. 2. (Khaama, Al Jazeera)
Last month, the Taliban unleashed deadly repression on protesters in Jalalabad and other cites. There were reports of women being flogged and killed as the Taliban overran the country in August. In the first fatwa issued by Taliban officials in Herat, mixed-gender classes have been prohibited at the colleges and universities.
Photo: Khaama