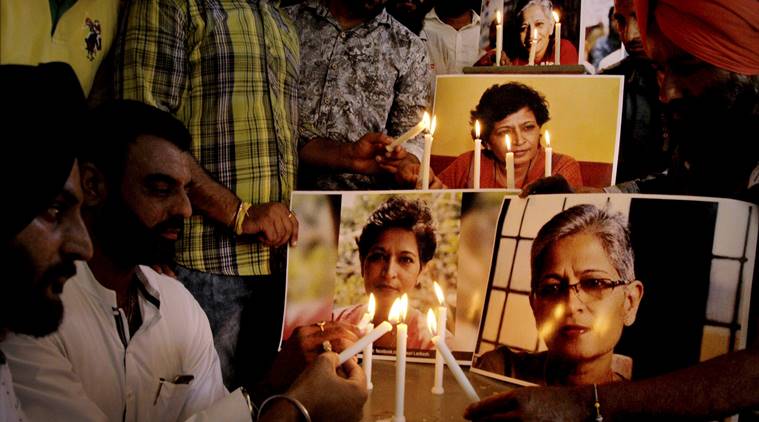 Standing for the Human Rights of Journalists in India
by Nava Thakuria, CounterVortex
India, touted as the world's largest democracy, is and remains a dangerous place for working journalists irrespective of the regime in power at New Delhi or any provincial capital. The populous country witnesses the murder of around five media workers each year, an average that has not changed for decades. And few of these cases see any justice in the country's court system. The media workers' community in the South Asian nation now plans to observe the Oct. 2 birthday of Mohandas Karamchand Gandhi—a lawyer turned journalist turned India's liberation hero—with countrywide demonstrations to demand freedom of expression and an end to the atmosphere of impunity.
The month of September saw three shocking journo-murders from different parts of India. So far, 2017 has witnessed the killing of eight journalists—to a lukewarm reaction from the authorities. It was only the murder on Sept. 5 of editor-journalist Gauri Lankesh, 56, at her home in Bangaluru (formerly Bangalore) that aroused massive protests across the country.
Publisher of her own Kannada-language newspaper in Karnataka state, Gauri Lankesh Patrike, the acclaimed commentator was shot dead by unidentified gunmen. As she was an outspoken leftist who opposed the ruling Hindu nationalist Bhartiya Janata Party (BJP), may who took to the streets demanding justice in her case were quick to see a political motive behind the slaying.
The Karnataka state government, ruled by the center-left Congress party, has traditionally had a cordial relationship with Lankesh. The chief minister, Siddaramaiah, called her demise a personal loss. But many have charged even the state authorities of a slow response and inadequate investigation.
In northeastern Tripura state, run by the Communist Party of India (Marxist), chief minister Manik Sarkar personally joined a protest march demanding justice for Lankesh, winning appreciation from the media fraternity in northeast India for the gesture.
But when a young television reporter in Tripura was beaten to death by a mob, the same CPI (M) chief minister remained silent. Shantanu Bhowmik, 29, who worked for Bengali-language cable news channel Din-Raat in Agartala city, was killed while covering a protest against the Tripura government by the Indigenous People's Front of Tripura (IPFT).
Claiming widespread support from the tribal population of Tripura, the IPFT demands a separate homeland, to be called Twipraland, for the indigenous people out of Tripura. The party, which seemingly has a political understanding with the BJP, is often physically opposed by the CPI (M) tribal wing, Tripura Rajya Upajati Ganamukti Parishad (TRUGP). Bhowmik appears to have been killed during such a clash by TRUGP followers, who demanded he stop filming and then beat him with sticks. His phone with the images remains missing.
Paris-based Reporters without Borders ranks India 136th among 180 countries in its 2017 World Press Freedom Index—just ahead of neighbors Pakistan (139th), Sri Lanka (141), Bangladesh (146) and China (176). Norway topped the list while other of India's neighbors are ahead of it—including Bhutan (84), Nepal (100), Maldives (117), Afghanistan (120), Burma (131). One-party state North Korea (180) is at the bottom of the list.
Bhowmik's killing was condemned by international groups like the New York-based Committee to Protect Journalists and Brussels-based International Federation of Journalists, who demanded a "thorough investigation" into the slaying. Amnesty International warned that the killing of journalists cannot become the order of the day in India. Condemning the killing of Bhowmik, UNESCO director-general Irina Bokova said, "I trust the authorities will conduct an investigation into this killing and bring its perpetrators to justice. It is essential that journalists be able to keep us informed of events without fearing for their lives."
In India, all influential media bodies—the Indian Newspaper Society, Editors' Guild of India, Broadcast Editors' Association, Press Club of India, Indian Women's Press Corps, Federation of Press Clubs in India—strongly condemned the murder of Bhowmik and urged the Manik Sarkar government to deliver justice. The Press Council of India, a quasi-judicial body, also took note of Shantanu's killing and sought a report from the Tripura government.
All media bodies of northeast India came are demanding a Central Bureau of Investigation probe into the case. The North East Union of Working Journalists (NEUWJ) has called on the local government to compensate the family of Bhowmik adequately. Condemning the murders of Lankesh and Bhowmik, the newly launched forum urged the Union government in New Delhi to formulate a national action plan for delivering earliest justice to journo-victim families. It also fervently appealed to the media community to get united on demanding security measures for working journalists across India.
Bhowmik was the seventh Indian journalist to be killed this year. The string of killings began with Hari Prakash, 31, whose body was recovered in Hazaribag locality of Jharkhand on Jan. 2. Then came more bad news from Bihar, where unidentified goons shot dead Brajesh Kumar Singh, 28, at Samastipur locality on Jan. 3.
The third and fourth incidents were reported from Madhya Pradesh, where Shyam Sharma, 40, was stabbed to death at Anshul locality on May 15 and Kamlesh Jain, 42, was shot dead in Pipliyamandi May 31. Haryana-based television journalist Surender Singh Rana, 35, was shot dead on July 29. Punjab-based editor KJ Singh, 66, was slain along with his aged mother on Sept. 23.
India lost six journalists to assailants in 2016, which was preceded by five cases in 2015. It witnessed murders of two scribes in 2014, but the year 2013 reported as many as 11 journalists slain. The killing of Sujit Bhattacharya, Ranjit Chowdhury and Balaram Ghosh at Agartala that year broke as sensational news, as Tripura had no recent record of journalist-murders.
Soon after Bhowmik's killing, political games started as the BJP accused the left government at Agartala of failing to maintain law and order. The saffron party also demanded Sarkar's resignation. The Congress leaders criticized both the ruling CPI (M) and the BJP for triggering communal violence and dividing the population, playing tribal peoples and Bengalis against each other ahead of state Assembly polls early this year.
The Tripura government finally decided to constitute a Special Investigative Team to probe into the astonishing murder, and three persons have now been arrested. The state government has also agreed to offer rupees one million to the bereaved family.
The twin cases of Lankesh and Bhowmik indicate that this is a problem across India, across both geographical regions and political lines. Hopefully, with national outrage and international attention, a truning point has now been reached.
———
Nava Thakuria is an independent journalist based in Guwahati, Assam, India.
Photo: Indian Cultural Forum
From our Daily Report:
India: writer's revolt over Hindutva terror
?CounterVortex, Oct. 18, 2015
See also:
ASSAMESE MUSLIM GIRL OVERCOMES DIKTAT
by Nava Thakuria, CounterVortex
CounterVortex, March 2017
BURMA: SCRIBE'S MURDER TESTS DEMOCRACY
by Nava Thakuria, CounterVortex
CounterVortex, March 2017
—————————-
Special to CounterVortex, Oct. 1, 2017
Reprinting permissible with attribution