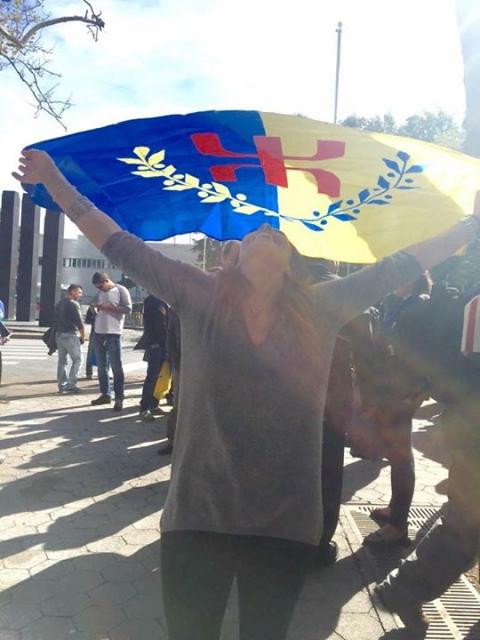 by Bill Weinberg, The Villager
All Saints Ukrainian Church on East 11th Street, with its colorful mosaic facade, was the unlikely venue on Saturday Jan. 16 for the metro area Berber community's celebration of their traditional new year holiday, Yennayer. On the wall of the church's downstairs meeting space, paintings of orthodox saints formed a backdrop to the flag of Kabylia—the increasingly restive Berber region of Algeria's northern mountains. By an interesting chance, it has the same blue and yellow colors as the Ukrainian flag. It was still a little odd to hear strains of North African music and eat delicious couscous in a Ukrainian church.
The Berbers were in North Africa for thousands of years before the arrival of the Arabs in the seventh century. 2016 is 2966 in their calendar, which starts counting from the founding of a Berber dynasty in Egypt under Pharaoh Sheshonq I in 950 BC. Back then, the Berbers were known to the Greeks as the Libyans. They were later known to the Romans as the Numidians. They became known as the Berbers due to their association with the "barbarian" Vandals who passed through North Africa on their way to sacking Rome. But they have always called themselves the Amazigh—free people. (The plural is Imazighen.)
Yennayer has taken on a special significance in the current Amazigh cultural renaissance—especially for the inhabitants of Kabylia and their worldwide diaspora. The highlight of the celebration at All Saints Church was an exposition by Sadi Melbouci, an Amazigh businessman and political leader who flew in from his home in Denver for the affair, entitled "Kabylia's Path to Freedom." Tired of what they see as second-class citizenship under a regime officially committed to Arab nationalism, more and more Kabyles (as the indigenous Amazigh of the region are called) view themselves as a colonized people, and are calling for independence from Algeria.
Continue Reading

BERBER NEW YEAR IN A UKRAINIAN CHURCH