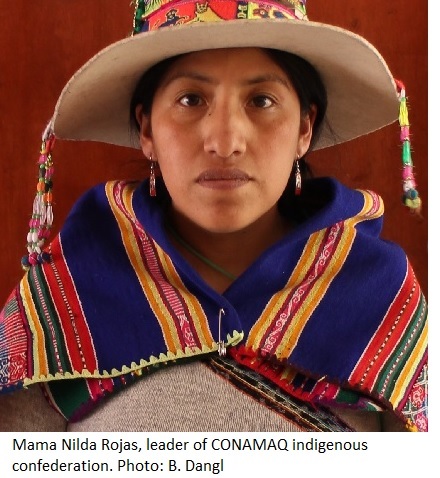 "We will not sell ourselves to any government or political party"
Interview by Pablo Peralta M., Página Siete, La Paz
Translation by Benjamin Dangl, Upside Down World
Translator's note: Bolivia's Conamaq indigenous movement is currently a major grassroots critic of the policies of the Evo Morales government and its Movement Toward Socialism (MAS) party. Because of this critical stance, the government helped to violently oust the Conamaq from their offices in La Paz this past December, and create a parallel, pro-MAS Conamaq. Mama Nilda Rojas is a leader of the dissident, or organic, Conamaq, and is interviewed here by Pablo Peralta M. of Bolivia's Página Siete newspaper. While ex-Conamaq leader Rafael Quispe is seeking to run for president against Morales, the current Conamaq of Nilda Rojas rejects all political parties and alliances with any governments, and remains one of the few critical social movements outside the umbrella of the MAS party, along with a radical base of followers and a progressive vision for the country.
In this interview, Rojas mentions the MAS-supported Mining Law, which gives members of the mining industry the right to use public water for its water-intensive and toxic operation, while disregarding the rights of rural and farming communities to that same water. Furthermore, the law criminalizes protest against mining operations. Conamaq's struggle is part of a Latin America-wide grassroots push not just against extractivism, but also for respecting the rights of communities in the cross hairs of extractivism to prior consultation, an end to the criminalization of protest against extractive industries, and for a diversification of the economy beyond just the export of raw materials. The Conamaq stands beside many regional movements advocating the development of an economy and politics which respects the environment and indigenous rights while providing support and empowerment for a majority of the population.
Continue Reading

BOLIVIA'S CONAMAQ INDIGENOUS MOVEMENT