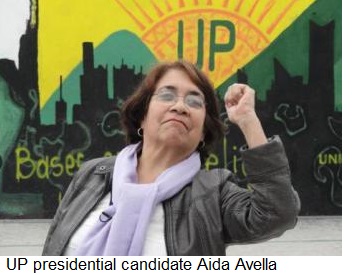 The Return of the Patriotic Union Party
by James Bargent, Toward Freedom
MEDELLIN — In Colombia's congressional elections in early March, the name the Patriotic Union appeared on ballot sheets for the first time in over a decade. It is a name that carries a heavy historical burden, evoking memories of a political party whose tragic history casts a long shadow over Colombia's civil conflict—and whose remarkable rebirth now hangs in the balance.
The first incarnation of the Patriotic Union (Unión Patriótica or UP) was extinguished when the state removed its legal status as a political party in 2003 after membership was whittled down to a handful of activists, and the party could barley muster 50,000 votes in elections.
The signing of the UP's death warrant was little more than legally ratifying the success of a bloody "political genocide." By that time, thousands of UP leaders, activists and supporters had been murdered by right-wing paramilitaries, corrupt members of the security forces and drug traffickers, who saw the party as the civilian face of the guerrillas of the Revolutionary Armed Forces of Colombia (FARC).
Continue Reading

A REBIRTH OF HOPE IN COLOMBIA