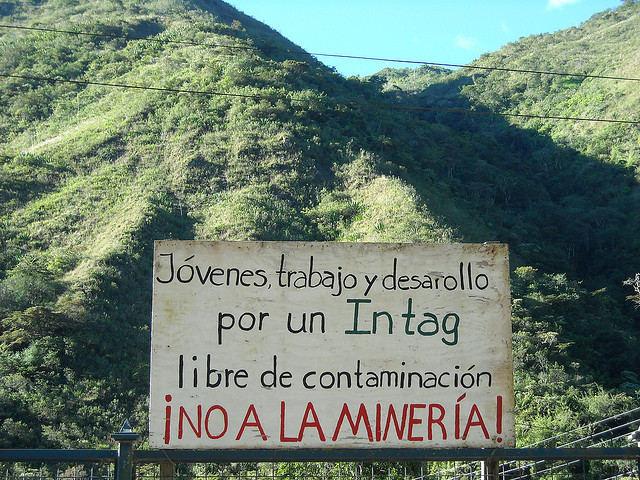 The Battle Over Sustainable Development in Ecuador's Intag Valley
by Gerard Coffey, La Linea de Fuego
QUITO — Born in Cuba, Carlos Zorrilla left the island when he was 11 and emigrated with his family to the United States. But the promised land did not live up to his expectations. Like many of his peers he found it hard to accept the war his adopted country was waging in Vietnam, not to mention the politics of then President Richard Nixon. So he left, looking for somewhere to live in peace. In 1978 he found himself in the Intag valley in Northern Ecuador where, he tells, he found an attractive agricultural area populated by solid and supportive communities. So he stayed. "I love agriculture," he says with a smile.
Attractive is probably an understatement. Intag, located in the western foothills of the Cotacachi volcano in Imbabura Province, some 150 miles south of the Colombian border, is warm, green and unequivocally beautiful. Populated in the late nineteenth century by families that migrated from other parts of the province, the area is a subtropical and primarily agricultural district with plenty of water, high levels of biodiversity and spectacular landscapes.
But the story of Zorrilla and Intag is not one of bucolic bliss. As he found out, peace and harmony do not come so cheaply. There is copper in the hills, and twice in recent decades mining companies have come looking for minerals to exploit.
Continue Reading

ENEMY OF THE STATE