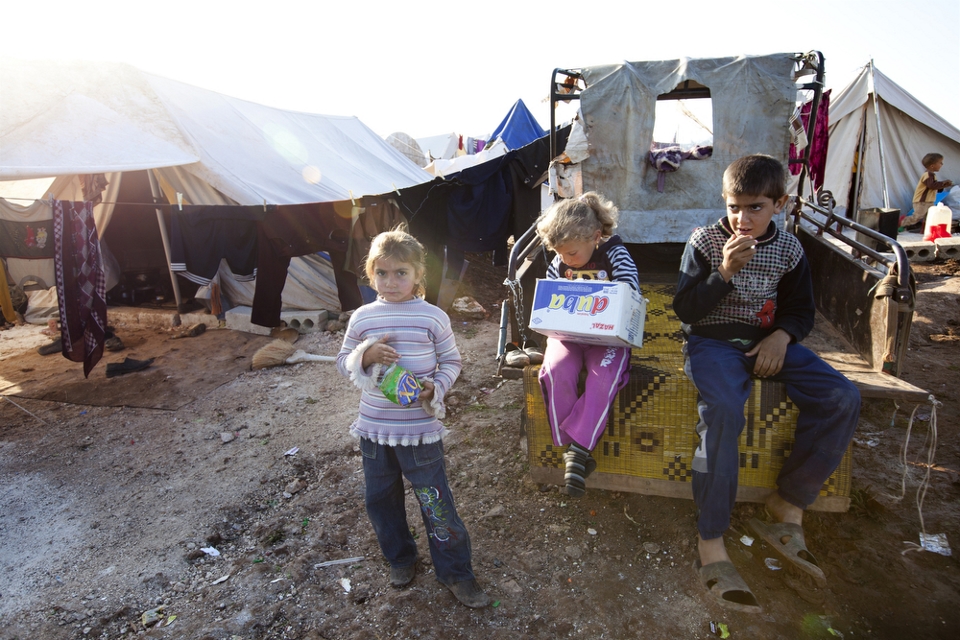 by Annie Slemrod, IRIN
JERUSALEM — The northeast Syrian city of Raqqa is a crucial power centre for the so-called Islamic State, important enough that many call it the group's "capital" and France chose to bomb it repeatedly as its rejoinder to the Paris attacks. Speaking Nov. 16, the day after French warplanes struck the city, President François Hollande promised to step up the military campaign against IS and "destroy" the group.
No civilians were reported killed in the overnight strikes but plenty remain in the area. How are they getting by? Precious little information makes it out of IS territory, but this is what we could establish…
Civilian population
Before Syria's war began in 2011, Raqqa's population was estimated at 220,000. When IS consolidated its control over the provincial capital in early 2014, many people fled the country or joined the 6.5 million Syrians who have been internally displaced by violence.
Some of the local population was replaced by an influx of IS loyalists, fighters, and their families, meaning experts can't pin down exactly how many people live there today.
The takeover of the city by IS doesn't mean all the city's current residents are behind the group, explained Columb Strack, senior Middle East analyst at the think tank IHS. Instead, many of those left behind in Raqqa have learned to deal with the strict rules and keep their heads down. "They are making the best out of the situation," Strack told IRIN. "They don't want to leave their homes and are just making do."
This means enduring almost daily executions, lashings, and public displays of prisoners, he said. "But within that, to a certain extent, life goes on."
One group of anonymous activists with a visible presence on social media, "Raqqa is Being Slaughtered Silently," is particularly outspoken about its opposition to both IS and the regime of President Bashar al-Assad.
Separation
Raqqa has been hit plenty of times by the international coalition fighting IS, of which France has suddenly become a much more visible member. Militaries in the coalition boast of precise strikes that avoid civilian casualties, but this narrative has been questioned.
Another reason for the apparent lack of civilian casualties in the Frencg raid may be the lack of trust between IS and the locals it rules over, said Ghadi Sary, Academy Asfari fellow at Chatham House's Middle East and North Africa Programme.
France said it targeted an IS command post, a recruitment center, an arms depot and a training camp in its air raid. "Those places were known to be government headquarters before IS took over… most of them are places that civilians would avoid because IS is there, and [IS] would not want civilians to be roaming around," said Sary.
In addition, Raqqa is regularly hit in retaliation for IS actions internationally, said Sary. "You have to wonder whether they [IS] were expecting this." He added that some IS installations are outside the city centre in the countryside, again helping to reduce civilian casualties.
The relative lack of non-combatant deaths from coalition strikes may not last, however. Strack posited that the French government's need to show its public a strong response could see a shift in targeting policy. "Previously they would only conduct strikes based on extremely good intelligence when they knew they could minimise civilian casualties," he said. "The threshold could be reduced, which would then increase deaths in built-up areas like Raqqa."
Economic problems
In addition to the human rights abuses known to be rampant inside the territories that IS controls, Strack said daily life for civilians in Raqqa is becoming harder. "IS has taken a hit to their income because of the constant [coalition] airstrikes," he said. Strack listed increased conscription to IS, raised taxes, and a cut in fighters' salaries as issues the local population is facing.
In addition, UN agencies and international aid organisations are barely able to provide any assistance to the local population. However, a UN source told IRIN that there had been no major displacement as a result of the recent bombings.
Strack expressed concern that even if they weren't hit directly by warplanes, civilians in Raqqa could pay the price in the coming days in other ways, potentially being executed as suspected Western informants or being used as human shields.
While the clamour grows in Western capitals for greater military action, others are urging world leaders to avoid knee-jerk reactions that might play into the hands of the extremists.
"ISIS wants to be bombed by France," Hania Mourtada from the UK-based advocacy group the Syria Campaign told IRIN by email. "Every inevitable civilian death drives more people into the hands of the extremists. "What would really frustrate ISIS would be redoubled efforts to bring peace to Syria, by accelerating a transition from the much greater killer of civilians: Bashar al-Assad."
———
This article first ran Nov. 16 on IRIN.
Photo: Children at Atme camp for displaced people in northern Syria. Delivery of aid in rebel-held northern Syria is complicated by many factors, and often lacking. Credit: Jodi Hilton/IRIN
From our Daily Report:
Kurds caught in Russo-Turkish game… again
(On civil resistance in Raqqa)
World War 4 Report, Dec. 29, 2015
France bombs Syria; US bombs Libya
World War 4 Report, Nov. 15, 2015
See also:
D.I.Y. IN DAMASCUS
Rooftop Gardens in Syria's Besieged Neighborhoods
by Youmna al-Dimashqi, Syria Deeply
World War 4 Report, December 2015
—————————-
Reprinted by World War 4 Report, Jan. 1, 2016