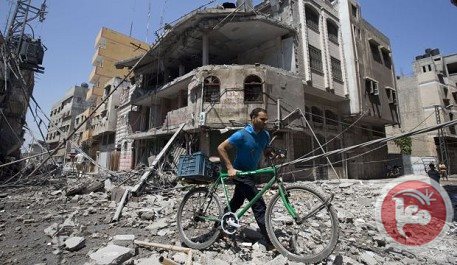 from IRIN
JERUSALEM — Speaking on Aug. 5 after a meeting at the International Criminal Court (ICC) in The Hague, Palestinian foreign minister Riyad al-Malki was unequivocal. "Everything that has happened in the last 28 days is clear evidence of war crimes committed by Israel, amounting to crimes against humanity," he said, referring to the ongoing Israeli assault on Gaza. "There is no difficulty for us to show or build the case. [The] evidence is there… Israel is in clear violation of international law."
His comments echoed those made by senior international figures. Speaking after the bombing of a UN school, UN Secretary-General Ban Ki-moon called the attacks a "gross violation of international humanitarian law," while UN High Commissioner for Human Rights Navi Pillay has said there is a "strong possibility" of war crimes.
According to the latest count from the UN, Israel's Operation Protective Edge against Hamas and other militants in Gaza has claimed the lives of more than 1,800 Palestinians, 72% of whom were civilians. The death toll on the Israeli side is 67: 64 soldiers, two civilians, and one foreign national working in Israel.
Yet while the accusations of abuses against Israel have been loud, proving them will be a lot more challenging. Political, legal and practical limitations, experts say, mean the Palestinians will struggle to use either international or Israeli courts to pursue their claims.
ICC doubts
In November 2012, the UN General Assembly recognized Palestine as a non-member observer state, making Palestine eligible to become a member of the International Criminal Court. As yet, however, Palestinian leaders have not ratified the treaty of the Court, so they cannot make a claim against Israel.
While al-Malki has insisted that Palestine will become a member of the ICC in the coming months, there are numerous reasons why this may not come to pass.
The first is that international powers—most vocally the USA, but also Middle Eastern states—are putting pressure on Palestinian Authority President Mahmoud Abbas not to become a member, as they say it will undermine peace negotiations. For that reason he may wish to continue to hold onto the threat to gain leverage in negotiations.
Going to the ICC "is the biggest political weapon that they [the Palestinian Authority] have in their arsenal at the moment, and I am assuming that both Israel and the United States have warned them very seriously not to do so," said Stuart Casey-Maslen, head of research at the Geneva Academy of International Humanitarian Law and Human Rights. "Otherwise they would have joined. They joined other relevant treaties whether it was human rights or [international humanitarian law]… The fact they haven't done so is not a legal question; that is a political decision by the Palestinian leadership."
The second reason such a move remains unlikely is that acceding to the ICC would have serious ramifications for Palestinian fighters in Gaza. The ICC would have to look into the conflict as a whole, and Israel—itself not an ICC member—has accused Hamas of using civilians as human shields and targeting rockets indiscriminately at the Israeli civilian population. If Palestine were to sign up to the ICC, Hamas and other militarized groups could face international prosecution.
For that reason, the Palestinian Authority has been struggling to convince militarized groups to back the request for ICC membership. Casey-Maslen said Hamas' tactic of firing rockets into Israel without specific military targets, even though they cause little damage and are often intercepted by the "Iron Dome" missile defense system, puts it in a "very difficult position" legally.
In the absence of Palestine formally joining the ICC, other international options appear limited. In late July, a French lawyer filed a complaint with the ICC on behalf of top Palestinian officials, accusing Israel of war crimes including "attacks against civilians" and "excessive loss of human life." This is similar to an attempt for an ICC investigation made in 2009, after Israel's Operation Cast Lead, the 2008-2009 three-week conflict that killed up to 1,400 Palestinians. At the time, the prosecutor threw out the bid as Palestine was not a member of the ICC, and it is likely that the new complaint will face a similar response.
Paul Hirschson, a spokesperson for Israel's Foreign Ministry, told IRIN that he was not aware of the new complaint but that the Israeli Defense Forces (IDF) "operate one hundred percent within the dictates of international humanitarian law." If a complaint were to make it to the ICC, Hirschson added, "it would probably go nowhere."
An alternative international route to justice for the Palestinians would be an investigation demanded by the UN Security Council. Yet the USA—as a permanent member of the Council and close ally of Israel—is likely to veto such a move.
Local courts offer little hope
While Palestinian politicians debate the feasibility of seeking international accountability for what they consider Israeli impunity, local human rights groups have been working within the Israeli system to the same end. Yet they, too, are often faced with daunting challenges.
Even before Israel sent its ground troops into Gaza with the stated aim of neutralizing Hamas' tunnels, a coalition of local NGOs was already writing to Israeli civilian and military authorities, cautioning that Israel's evacuation warnings were not sufficient to protect civilians.
As Sawsan Zaher, a lawyer at Adalah, the Legal Center for Arab Minority Rights in Israel, explained to IRIN, her organization is working within the Israeli legal system "despite the fact that we know there are limitations and we are not getting effective responses to our letters, and despite the fact that in most of the issues, the remedy we get will not be to our satisfaction… we still do it because for us this is the current tool available."
Attempts to gain recompense for past wars have also been largely been unsuccessful, thanks to a 2012 piece of legislation that retroactively blocks compensation for civilians if they were harmed in the course of a broadly defined "combat action," a designation Zaher and others believe make it nearly impossible for Palestinian civilians to seek civil redress.
"It doesn't matter if you are talking about property damage or damage to injury or life, under Israeli law you will still not be entitled to compensation even if you were not involved in military action," said Zaher.
Individual soldiers rarely face criminal charges for actions in combat, as a complaint must first be filed with the Military Advocate General Corps, and the army itself then determines the course of investigations.
Worse still, trying to challenge through the Israeli legal system can bring about unintended negative consequences. Eitan Diamond, executive director of Gisha, the Legal Center for Freedom of Movement, one of the NGOs involved in the extensive letter-writing campaign, points out that a 2008 petition to the Israeli Supreme Court challenging cuts in electricity supply to Gaza had perverse results. The court decided that Israel's control over Gaza did not constitute occupation, limiting its obligations to the residents of Gaza, and allowing some officials to now argue that Israel does not need to provide Gaza with any power at all.
Documenting the conflict
Any future rulings, whether international or local, will rely on better documentation. Casey-Maslen said the key to any legal bid would be reliable evidence collection in the days after the fighting stops.
He said you could not merely conclude that because "civilians have been killed [that] war crimes have been committed… You have to build a criminal case and that means collecting the evidence."
As the current temporary ceasefire holds, Yael Stein, research director at B'Tselem, an NGO that focuses on human rights in Israel and the Occupied Palestinian Territory (OPT), said her group is looking to take stock of the situation. "Our fieldworkers in Gaza can now, hopefully, leave their houses and start looking for witnesses and evaluate the damage."
Zaher said Adalah and its Gaza partners were also engaging in documentation, for use in future internal or external court cases, or independent inquiries like the UN's controversial 2009 Goldstone Inquiry into Operation Cast Lead. The UN Human Rights Council has already voted to launch an inquiry into alleged Israeli war crimes in the current conflict.
———
This story first appeared Aug. 6 on the Integrated Regional Information Network (IRIN), an independent United Nations news agency.
Photo: Ma'an News Agency
Resources:
US Leaders Aid and Abet Israeli War Crimes, Genocide & Crimes against Humanity
by Marjorie Cohn, Jurist, Aug. 8, 2014
From our Daily Report:
War crimes charges for Israel?
World War 4 Report, Aug. 15, 2014
See also:
PRACTICING PEACE IN WARTIME
Israelis and Palestinians Who Refuse to Be Enemies
from IRIN
World War 4 Report, August 2014
—————————-
Reprinted by World War 4 Report, Aug. 17, 2014