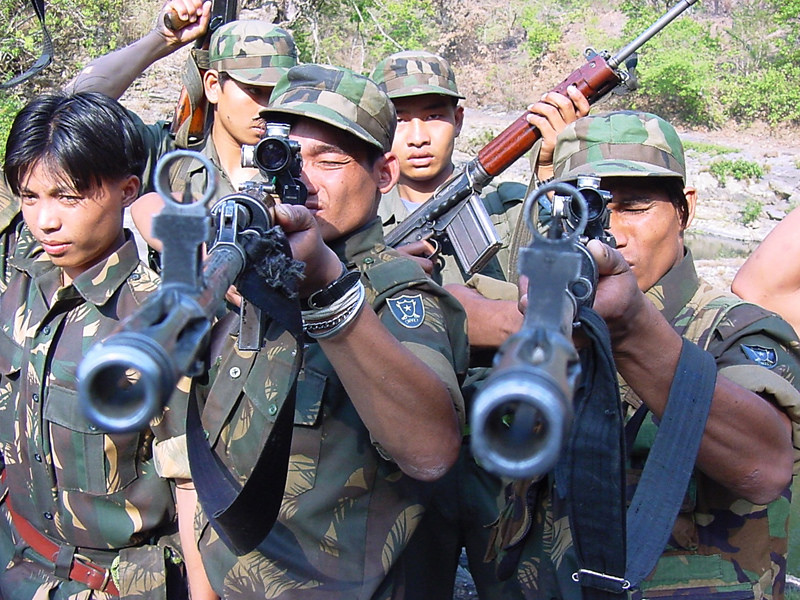 by Nava Thakuria, World War 4 Report
As most leaders of United Liberation Front of Asom (ULFA) and other banned militant groups of northeast India have now joined in peace talks with the authorities and are bargaining for amnesty from their past misdeeds, families of victilms of the insurgencies express concern about whether they will get justice. ULFA, which chased the dream of an independent nation of Swadhin Asom in what is now the Indian state of Assam, engaged in numerous acts of extortion, kidnapping and even in brutal killings. Journalists and common people sometimes targeted for their critical comments about the rebels.
One notable example is the brutal assassination of journalist Kamala Saikia, an elderly teacher, veteran of India's independence struggle and devotee of Gandhian principles in the town of Sivasagar, who became a commentator on social issues facing his conflicted state. He was taken away by ULFA fighters on the night of August 9, 1991; his body was recovered next morning on a roadside with signs of torture.
He was among 20 journalists, commentators and editors of Assam who lost their lives to political killings over the past two decades. Not one perpetrator has been brought to justuice.
Feeling the heat of criticism, the ULFA leaders first issued threats to Saikia asking him to stop writing in the local newspapers against the outfit and its cadres, but finally they eliminated the outspoken community leader.
Initially the ULFA remained silent over the assassination, but facing public outcry the militants later released a statement saying that they killed Saikia for allegedly "spying" against the outfit. ULFA chairmen Arabinda Rajkhowa, soon after his release from prison, sought an apology from the bereaved family.
Born in 1979 with the objective of attaining an independent Swadhin Asom, the ULFA waged an insurgency and terror campaign over three decades. The outfit is divided today. The Rajkhowa faction has joined in peace talks with New Delhi, while another faction led by Paresh Baruah continues waging guerilla war from his hideouts along the border with Burma and China.
Soon after Saikia's murder, his family members lodged a complaint with the local police. State police carried out the investigation for seven years. But ultimately the authorities closed the case in September 1998, citing insufficient evidence and witnesses—sparking more public outrage across Assam.
The frustrated family then appealed to the state government to reopen the case. It was then handed over to the state Criminal Investigation Department—which also failed to charge anyone, despite interrogating many demobilized ULFA militants. In the years since then, nearly all those interrogated have lost their lives—with the notable exception of Kushal Duori alias Jayanta Hazarika, who was elected to the State Legislative Assembly from Thowra constituency. The CID submitted its report in 2008 without convicting any one—again claiming that it could not gather conclusive evidence.
Seeking justice, Saikia's eldest son Dhananjoy filed a petition in Gauhati High Court in June 2008. The court ordered a re-investigation of the case yet again.
Frustrated by the slow progress on the investigation, nearly 30 editors, journalists and intellectuals signed a petition and submitted it to Assam chief minister Tarun Gogoi in August 2003. The Kamala Saikia memorial trust also submitted another memorandum to Gogoi in August 2006. Even former Prime Minister Manmohan Singh was also approached to intervene on the matter. Dr. Singh, who still represents Assam in Rajya Sabha, India's upper house of parliament, was briefed about the hazards of journalism in the state by then Editors Guild of India president Rajdeep Sardesai. In their August 2009 at the prime minster's office in New Delhi, Dr. Singh promised to take up the matter with Assam state government.
"It is a matter of grave concern that the family of a journalist, who was killed to stop his critical writings against the banned outfit, has to wait for justice years after years," says Kanaksen Deka, a senior editor and president of Kamala Saikia trust. He added that even today, the victim's family and the journalist fraternity of Assam have no idea if the justice will ever be delivered.
Now the family and the Kamala Saikia trust have raised their voices to demand a high-level probe—preferably by New Delhi's national agency, the Central Bureau of Investigation.
Working in Assam and insurgency-stricken northeast India continues to be dangerous for journalists. The insurgency and unrest among the youth of the region—where a number of armed outfits are still fighting New Delhi for various demands varying from local autonomy to outright independence—face journalists on the ground with tremendous challenges. They remain vulnerable to threats from the insurgents, surrendered militants and government security forces alike. And despite recent progress toward peace, it is still going on.
———
Image: ULFA rebels in Assam. Credit: K. Aksoy via Flickr
From our Daily Report:
India: Naga rebels divided over peace deal
World War 4 Report, Sept. 12, 2015
See also:
REFUGEES FACE BACKLASH —IN INDIA
by Nava Thakuria, World War 4 Report
World War 4 Report, October 2015
TIBET & ASSAM: PAWNS IN INDIA-CHINA GAME
by Nava Thakuria, World War 4 Report
World War 4 Report, August 2012
—————————-
Special to World War 4 Report, Feb. 18, 2016
Reprinting permissible with attribution