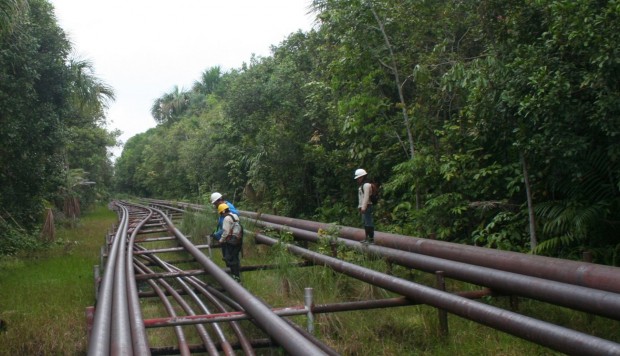 Lizardo Cauper, president of Peru's alliance of Amazonian peoples, AIDESEP, has issued an urgent call for authorities to open dialogue with indigenous communities in the northern region of Loreto rather than militarizing the area in response to mounting social conflicts and attacks on the North Peruvian Pipeline. Noting that the aging pipeline is in chronic disrepair, with repeated spills contaminating the rainforest waterways, Cauper said: "We have made a call that, in place of militarization, they put in place a new pipeline. But it is not enough to have a new pipeline, but to respond to the demands of the people who are living around these oil activities." On Feb. 7, just a week after Cauper's comments, Loreto regional authorities called upon Lima to declare a state of emergency in response to paralysis of the pipeline, which delivers crude from rainforest oilfields over the Andes to the coast.
Regional leaders issued their call as indigenous residents of Saramurillo community launched a blockade of the pipeline's Station 1, and also seized barges and occupied the airstrip of oil company Frontera Energy at the nearby Bloc 192. At issue are demands for environmental protection of lands, water and communities along the pipeline route.
But the pipeline has apparently seen intentional sabotage as method of protest in recent months. Members of Mayuriaga community blocked crews from parastatal PetroPeru who were sent in to repair the pipeline after a rupture on Nov. 27, demanding direct talks with President Martín Vizcarra's office. Authorities said community members had themselves ruptured the pipeline, to press their demands for new elections following a disputed local race in Datem del Marañón province.
Also in December, members of Chapis community blocked an access road leading to the pipeline's Station 5, demanding greater development and infrastructure investment in the area.  On Jan. 15, Chapis residents took hostage 24 members of a dialogue team from the central government that had been sent in to try to resolve the crisis.
Regional authorities say production equivalent to 10,000 barrels of oil is being lost daily due to paralysis of the pipeline and oil production in Loreto. (El Comercio, Feb. 8; El Comercio, Feb. 7; Actualidad Ambiental, Jan. 31; El Comercio, Jan. 29; El Comercio, Jan. 15; Gestión, Dec. 11; Reuters, Nov. 28)
Photo: Andina