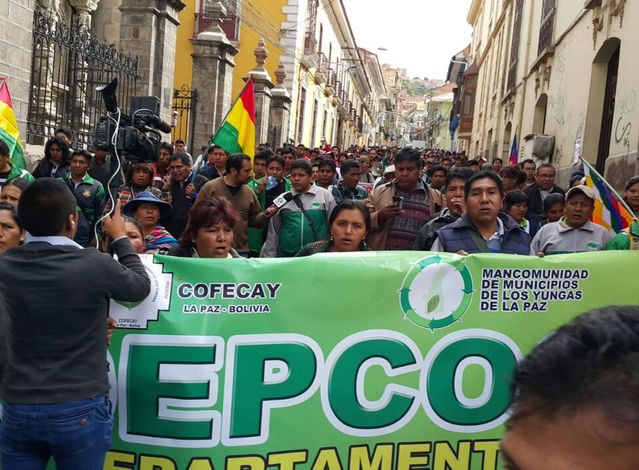 Violent tensions are flaring in Bolivia's capital between rival factions of one of the country's coca-grower unions, which oversee sales to the legal market. Clashes broke out in early August between two factions of the Departmental Association of Coca Producers of La Paz (ADEPCOCA)—one loyal to President Evo Morales and his ruling Movement Toward Socialism (MAS), the other to imprisoned union leader Franklin Gutiérrez. The former group staged "parallel" elections for new union leaders in late July, but the latter refuses to recognize the poll, and continues to demand the release of Gutiérrez and other imprisoned unionists. The first clashes on Aug. 2 came as MAS supporters besieged the ADEPCOCA headquarters in the Villa Fátima district of La Paz, demanding that the Gutiérrez supporters surrender the offices.
Gutiérrez was arrested last year on charges of masterminding the murder of National Police officer Daynor Sandoval. The death occurred Aug. 24, 2018, when a group of coca growers reportedly ambushed members of a police-military Joint Task Force, charged with eradicating illegal coca plantations. The incident took place in La Asunta municipality, in the Yungas region of La Paz department, one of Bolivia's principal coca cultivation zones. Charges are still pending against Gutiérrez, who may face 30 years in prison. (InSIght Crime, Aug. 13; El Diario, La Paz, Aug. 2; La Razón, La Paz, July 31; ABI, July 7)
Indigenous and campesino opposition in Bolivia accuse the government of a "parallelism" strategy, setting up state-controlled "parallel" organizations to divide and co-opt popular movements.
Photo: La Razón