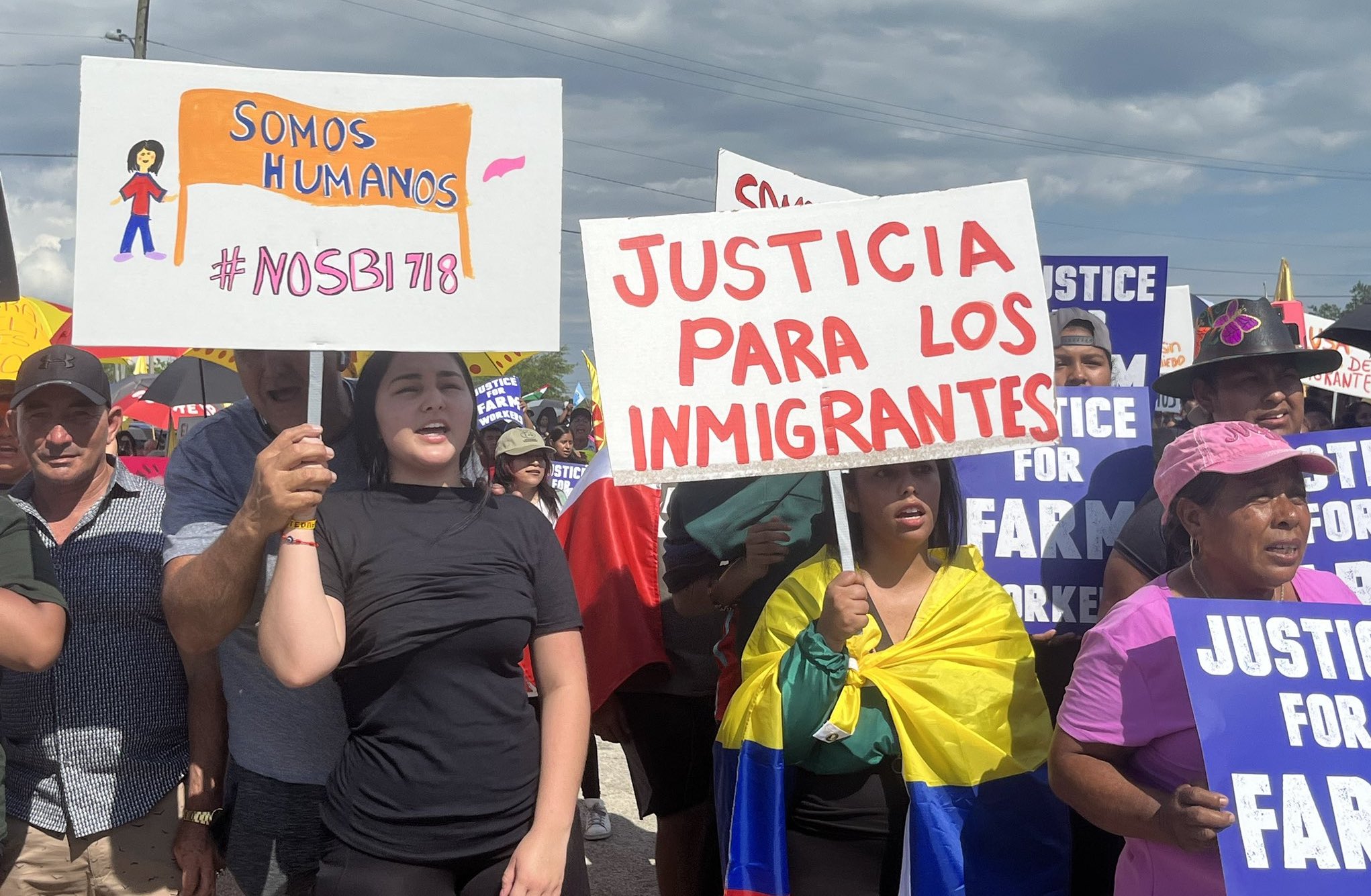 Demonstrators gathered across Florida June 1 to protest a recently enacted law that imposes harsh restrictions on undocumented immigrants. In what protesters dubbed "a day without immigrants," thousands walked off the job to express their opposition to Gov. Ron DeSantis' approval of Senate Bill 1718.
In Immokalee, dozens of businesses closed in support of the protest, and video captured over 6,000 protesters marching in support of immigrant workers and their rights. Similar protests took place in Orlando, Tampa, Jacksonville, Vero Beach, Fort Myers and Homestead, among other locations.
A representative from the Farm Workers Association of Florida (FWAF) told CBS News Miami, "We're asking people…to not go to work, and call their legislators…and urge them to revoke…the new immigration law."
Under the new law, businesses are prohibited from knowingly employing, hiring or recruiting undocumented immigrants. To ensure compliance, employers are required to verify their workers' documentation. Employers who fail to verify their workers face a $1,000 per day fine and a suspension of their business license. If undocumented immigrants attempt to get around the verification requirement and are caught using false documentation, they too face criminal penalties, including a potential $5,000 fine or five years in prison.
The Florida Policy Institute reviewed SB 1718 in April, before DeSantis' approval, and found that the consequences of the law would be severe. Undocumented workers make up nearly 10% of employees in six key industries of Florida's economy. These industries include construction, agriculture and retail.
At the time of its passage, FWAF referred to SB 1718 as "one of the cruelest immigration bills ever passed in the state of Florida" Despite the potential fallout, on May 10 DeSantis signed the bill into law, referring to it as "the most ambitious anti-illegal immigration law in the country."
SB 1718 is only one in a long line of recently enacted laws targeting minority communities in Florida. The situation has grown so dire that Equality Florida, the Florida Immigrant Coalition and the NAACP issued travel advisories for any LGBTQ+, immigrant or Black community members considering visiting the state.
From Jurist, June 3. Used with permission.
Photo: AFSC Florida via Twitter