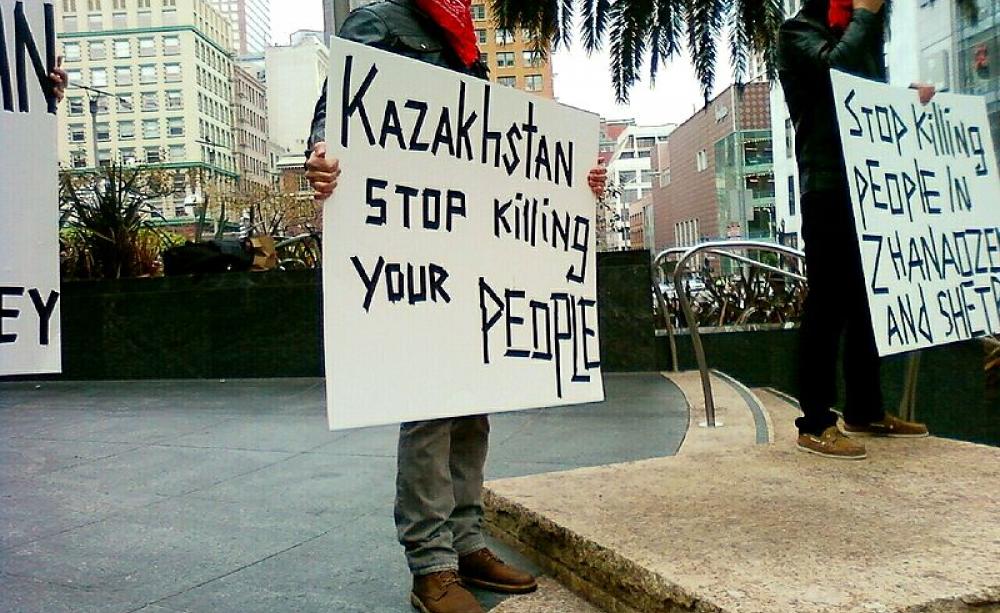 Human Rights Watch (HRW) on Feb. 2 charged that during and since last month's popular uprising in Kazakhstan, security forces have arbitrarily detained protestors, tortured some detainees, and interfered with their access to lawyers. The nationwide protests, which began over of a rise in energy prices, turned bloody after President Kassym-Jomart Tokayev ordered his armed forces to "shoot and kill without warning," leading to the deaths of at least 227 people. HRW says it has received dozens of credible accounts of arbitrary detentions, with some of those arrested being beaten with batons or given electric shocks. The organization directly interviewed some former detainees and their lawyers, and compiled reports from Kazakh rights groups and independent media outlets. Reported abuses include the forcible transfer of wounded persons from hospitals to detention centers.
Authorities say some 10,000 people have been detained across the country in connection with the January protests. As of last week, 898 were facing criminal charges, including for "terrorism." Media have reported at least two cases of deaths in custody in Almaty, Kazakhstan's largest city, apparently as a result of police mistreatment, and one such case in Kyzylorda.
Some of those arrested on Jan. 3, the day the uprising began, were on their way to join the protests but were detained by the OMON special forces before they arrived. They were interrogated for hours and denied access to a lawyer of their choice before being sentenced to weeks of "administrative arrest."
HRW called upon the Kazakhstan government to end all arbitrary detentions by releasing those still in custody, ceasing the mistreatment of detainees, and respecting the due process rights of those who are lawfully detained by affording them their choice of legal representation. HRW has urged the EU, US, and the larger international community to begin an investigation, should Kazakhstan fail to act on these recommendations.
From Jurist, Feb. 2. Used with permission.
Photo: San Francisco protest following 2011 Zhanaozen massacre in Kazakhstan, by Amineshaker/Wikipedia via The Ecologist