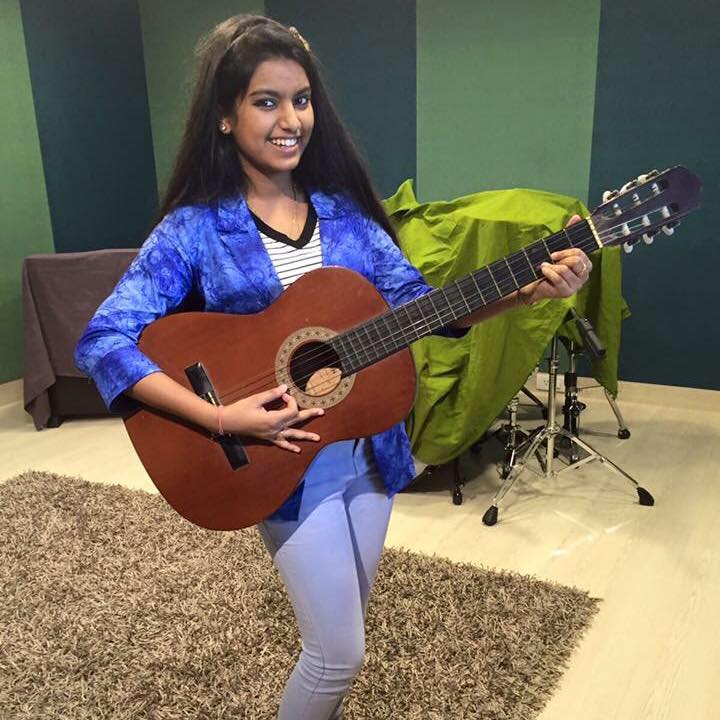 by Nava Thakuria, CounterVortex
Defying the diktat of local Islamic clerics, a Muslim teen singer recently performed at a cultural function in India's conflicted northeastern state of Assam. The Indian Idol celebrity, Nahid Afrin, 16, not only sang in the cultural night on March 25, but also enthralled thousands of audience members till midnight.
News broke on March 14 from the Muslim-dominated Hojai and Nagaon localities of central Assam, where some residents distributed a two-page leaflet (termed gohari or appeal) urging that the proposed cultural show at the Udali Sonai Bibi College campus in Lanka town of Hojai district should be discouraged.
Endorsed by 46 Muslim representatives of a number of Assam-based Islamic organizations, it asserted that no cultural function should be held at the venue as it was surrounded by mosques, madrassas, eidgahs (public prayer spaces) and cemeteries. It warned that the performance violated Sharia, was a threat to the sanctity of future generations, and would invite the wrath of Allah.
Even though the leaflet, written in a local Muslim dialect of Assamese, made no actual mention about Nahid, the clerics clearly had her in mind. And eventually the intellectuals, writers, journalists, politicians, cultural personalities and even separatist armed militants of Assam unanimously raised their voices against the diktat. They objected to the clerics' statement that music and theater are anti-Islamic.
Assam police sources also suspected that Nahid might have been targeted because some of her songs criticized terrorism—and, despite her Muslim background, she also sang numbers on themes of Hindu mythology.
State government chief Sarbananda Sonowal came down heavily against the threat. Personally calling Nahid by telephone, Sonowal assured all possible help for her. Stating that Nahid is the pride of Assam, the young chief minister declared that she can perform anywhere in the state without any fear from anybody.
"Such a ruling against practicing art and culture is unacceptable and is tantamount to infringement of one's freedom of cultural rights," said Sonowal, adding that the government would not tolerate any move to stifle any artist in the state.
As the news spreads across the globe, various New Delhi ministers along with politicians, Mumbai film personalities and social activists supported Nahid. The National Commission for Protection of Child Rights also took the matter seriously, and directed the administration to ensure her security and help Nahid to perform freely. The Assam state police quickly took action, and deployed two armed security guards for Nahid.
Even Bangladeshi exiled author Taslima Nasreen, who has faced threats from religious fanatics in her own country, applauded Nahid for her brave statement in going against the mullahs. In a Twitter statement, she demanded stringent punishments for those clerics, saying that "they don't believe in human rights, women's rights."
The Mumbai-based Indian Muslims for Secular Democracy came out with a statement applauding the achievements of Nahid and Suhana Sayed, another young singing star of Muslim background from Karnataka, who have wowed music lovers across religions with their outstanding talents. Bollywood scriptwriter Salim Khan and singer Vishal Dadlani were the first callers to Nahid supporting her at the time of crisis.
Various media outlets in Assam came out with strong articles condemning the attitude of the clerics in targeting an upcoming singer. Columnists emphasized that the secular ethos and composite culture of Assam are anithetical to such diktats on any artist.
Taking the advantage of the situation, Assam's separatist militant leader Paresh Barua also joined in the chorus. Head of outlawed United Liberation Front of Assam-Independent, Barua strongly condemned the fatwa against Nahid's performance. Speaking to reporters from an undisclosed location, he stated that there is no place for religious fanaticism in Assam.
Facing the heat, Assam State Jamiat Ulama, the council of Muslim clerics, tried to clarify that that it was not a fatwa against Nahid. The leaders of Jamiat Ulama rather blamed the media for spreading misinformation. The national level Islamic leader Umer Ilyasi said that the Assam clerics should have talked to Nahid personally, advising her not to go against the sharia laws.
The Patriotic People's Front Assam, an organization that has come together to oppose extremism of all kinds in the state, pointed out that they may not target Nahid, denounced the mentality that seeks to create an absolute Islamic zone in any locality of Assam.
Amidst all the hue and cry against the diktat, Nahid at her residence in Biswanath Chariali locality of eastern Assam reacted firmly that she would continue singing. The tenth grade student, who was the first runner-up of the Indian Idol Junior 2015 and recently made her Bollywood singing debut for Sonakshi Sinha star vehicle Akira, stated that her voice is a gift of Allah and she would use it with overwhelming support from the people of Assam.
———
Nava Thakuria is an independent journalist based in Guwahati, Assam, India.
Photo: Magical Assam
From our Daily Report:
Revered Sufi singer assassinated in Pakistan
CounterVortex, June 24, 2016
Women's freedom icon rocks Kabul peace concert
CounterVortex, Nov. 3, 2013
Taslima Nasrin: fundamentalism 'destroying' Bangladesh
CounterVortex, Jan. 24, 2007
See also:
ELUSIVE JUSTICE FOR ASSAM VICTIMS
by Nava Thakuria, World War 4 Report
CounterVortex, February 2016
BURMA: SCRIBE'S MURDER TESTS DEMOCRACY
by Nava Thakuria, CounterVortex
CounterVortex, March 2017
—————————-
Special to CounterVortex, March 28, 2017
Reprinting permissible with attribution