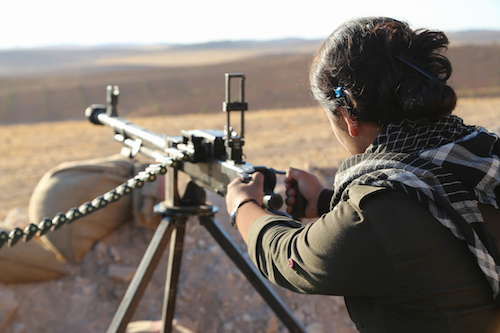 by Bill Weinberg, Los Angeles Review of Books
A strange paradox of the vertiginous world situation is that a radical left movement strongly influenced by anarchism is being massively backed by the Pentagon in the war for northern Syria. This movement, in fact, is now the United States' closest partner among the indigenous forces in the Syrian war.
The Kurds of northern Syria call the region Rojava (sunset or west in their tongue), and since 2012 have had their own autonomous zone. Two years later, the celebrated battle of Kobani opened as this town within the autonomous zone was besieged by the self-declared "Islamic State" (ISIS). Kurdish women fighters with a consciously feminist ideology driving back the ultra-reactionary ISIS became a global meme.
The US, after initially writing off Kobani, started aiding the Kurdish fighters as they began to turn the tide, against all expectations. Warplanes were sent in their support, and the pact between the Pentagon and the revolutionary Kurds was forged. US military advisors were embedded in their militia. Kurdish-led forces are now fighting to take the ISIS de facto capital Raqqa in a Pentagon-directed campaign backed by US air-strikes.
Continue Reading

SYRIA'S KURDISH CONTRADICTION