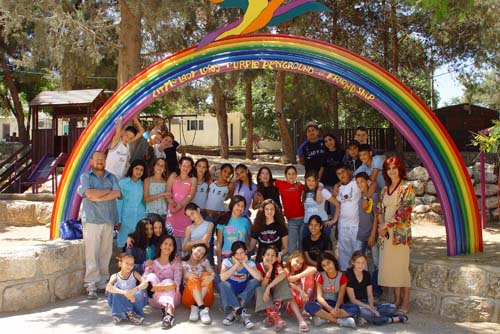 Israelis and Palestinians Who Refuse to Be Enemies
from IRIN
JERUSALEM — The sixty families are determined not to be driven apart by even the most extreme circumstances; the sign pointing to a bomb shelter is written in three languages—English, Arabic and Hebrew. Equidistant from Tel Aviv and Jerusalem on a hilltop near the border with the West Bank, residents of the village called Neve Shalom and Wahat al-Salam (Oasis of Peace in Hebrew and Arabic) choose to live side by side in Israel's only truly mixed community.
The 30 Israeli Jewish and 30 Palestinian families have resolved not to let the latest hostilities turn neighbor against neighbor. "These times of heightened violence actually really bring the village together," said Bob Mark, a Jewish Israeli who taught at Neve Shalom's primary school for 23 years. "You'll find the village demonstrating together," he added. While residents have differing views on the solution to the country's woes they all agree that the killing must stop.
The cooperative village, formed in the late 1970s, is an anomaly in a country where even the handful of technically mixed cities and towns tend to be largely segregated, with Jewish and Palestinian citizens of Israel (commonly called Israeli Arabs) attending separate schools. Co-existence is daily life here; decisions are made collectively, the children study in both Arabic and Hebrew and all prospective residents are required to attend a special training session on conflict resolution.
Maintaining the spirit of togetherness is made harder by the sirens and the sound of bombs that pierce the small-town quiet. Since the mid-June kidnapping and killing of three Israeli teenagers, and the presumed revenge killing of a Jerusalem Palestinian teenager, violence has grown across Israel and the Occupied Palestinian Territory. In an ongoing assault, hundreds of Palestinians have been killed in the Gaza Strip—mostly civilians—while at least 34 Israelis have died, all but two of them soldiers.
At times the town has slipped into something approaching a collective sense of depression, punctured only by collective protests. Usually during the Islamic holy month of Ramadan, the village breaks fast together once a week. This year, no one has quite felt up to it. Israeli Arab Rita Boulos arrived in Neve Shalom from Jerusalem in 1989, prompted in large part by the 1987-1991 first Intifada, when Palestinians violently rose up against Israeli occupation.
"I wanted to do something," she said, "to bring the same words and way of life I was talking about into reality… and I wanted to raise my children in a different way, in a peaceful environment." She is angered and frustrated that peace still evades the country. "This war is so brutal I can't breathe any more," she said. "It is difficult for us to see how they brutally kill our people [Palestinians]. We are the same people [Palestinians in Israel and Gaza]."
Bucking the trend
Neve Shalom is not the only place having a go at co-existence. Aptly named Shalom Dichter is the executive director of Hand in Hand, an organization that runs bilingual public schools in Jerusalem, Galilee and Wadi Ara, as well as kindergartens in Haifa and Jaffa, all areas inside Israel's 1967 borders.
Some 1,200 students are registered for the autumn, and although school is closed over the summer, Dichter explains that the communities that have grown up around the institutions have become a rallying point for those looking to build bridges.
Just as extremist groups have walked the streets of Jerusalem threatening rival communities, Hand in Hand members have been taking to the streets together, making their way from the local school to the city centre.
The marches are a way for Jews and Palestinians to "claim the public space together," said Dichter. "The fact that hundreds of people were marching…made it clear both to the…many people who saw it, as well as to ourselves, that we are not alone in that we oppose the war, we oppose the violence and we are practicing walking together in the public sphere."
Jalal Siksik, a longtime Jaffa resident who is on the parents' board at Hand in Hand's newest kindergarten, says sending his four-and-a-half-year-old son to such a place just felt right. He does not see this spirit as having been damaged by the war. Rather, he notes that "coexistence is alive and well in Jaffa despite the war and attempts by outsiders who wish to prove the opposite." The kindergarten is already oversubscribed for next year, and there are plans to expand it into a primary school.
Yet experts warn that the polarized atmosphere in Israel damages these kinds of initiatives. Sammy Smooha, professor of sociology at the University of Haifa and an expert on the relations between Israeli Arabs and Jews, said that merely respecting each others' culture is not enough.
"During this war, the gap between Arabs and Jews is increasing, and it doesn't matter if you know Arabic or Arabs, there is a dividing line and it is nationalism and loyalty to your person and nation, and that is primary to both sides… [Projects such as Neve Shalom] should be encouraged, but we have to be realistic about the impact they have," he said, stepping away from the phone for a few minutes after an air raid siren started.
He takes the current war as evidence of the difficulty of bridging the gap between the two peoples. "You can't disengage bilingual schools or a place like Neve Shalom from the milieu, which has different layers and circles, and the Israeli-Palestinian conflict is one important and essential part."
Waning optimism?
Indeed, not all of those who believe in co-existence still maintain their optimism. Neve Shalom's general manager, Israeli Arab Eyas Shbeita, is seriously considering leaving the village and the country after 34 years. His wife has a European passport, and Shbeita is not sure the fight is still winnable. "This last month took away all my optimism," he said frankly. "It's not the people in the village, it's this country."
With the new atmosphere, he fears racist attacks in the streets while outside the village. He despairs at the events in Gaza and has lost faith that Neve Shalom can bring about any change. "The worst thing is that I just don't see any light at the end of this."
But both Dichter at Hand in Hand and most residents of Neve Shalom seem comfortable with their limited sphere of influence. They know they cannot avoid the hatred that permeates much of Israeli society, but they can seek to counter it. In 2012, vandals defaced the Neve Shalom school with racist slogans; the village responded by painting over the graffiti with bright cheerful images.
Peace in the Middle East will not be made in Neve Shalom, but residents never thought it would. Boulos admits to doubts but believes she must continue. "I can't say I'm optimistic or pessimistic, but I'm determined. I'm 100 percent sure that there is no other way," she said. "I know we can't change the entire world… but we can be an example to our people that there is a more human way to live."
———
This story first appeared July 24 on the Integrated Regional Information Network (IRIN), an independent United Nations news agency.
Photo: school children at the Rainbow Gate in Neve Shalom.
Credit: Waat al-Salam via Peace Power, Berkeley, CA.
From our Daily Report:
'Price tag' attacks at Neve Shalom
World War 4 Report, June 6, 2012
See also:
ARCHAEOLOGY AND THE ZIONIST PROJECT
Interview: Nadia Abu El-Haj
by Alex Shams, Ma'an News Agency
World War 4 Report, July 2014
—————————-
Reprinted by World War 4 Report, Aug. 5, 2014