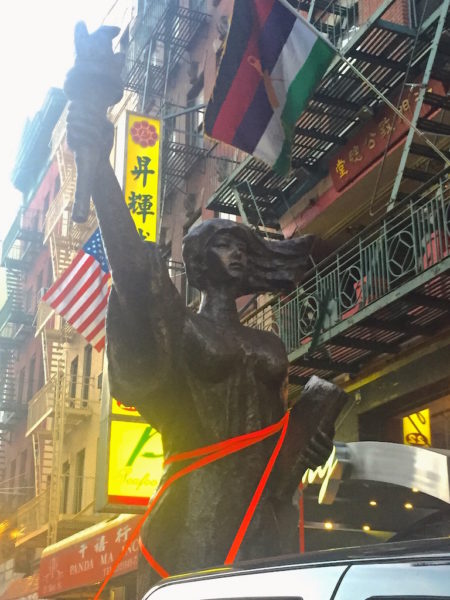 by Bill Weinberg, The Villager
The "Goddess of Democracy" became a global icon when she was raised by student protesters in Beijing's Tiananmen Square in 1989—before the movement was put down in the massacre of June 4. In the prelude to this year's anniversary of the massacre, the Democracy Goddess came to Manhattan's Chinatown. While the original raised in Beijing 27 years ago was of papier-maché and stood some 30 feet, this one was of fiberglass and about 10 feet high. It was raised in Confucius Plaza on May 30, right in front of the statue of the revered philosopher, at the corner of Bowery and Division.
Owing much to New York's Statue of Liberty but also to the French Marianne, the Goddess stands holding a torch aloft. Across the statue's breast is a banner with the words "Freedom is not free."
Standing below are her creator, California-based artist Chen Weiming, and his small entourage. They have just arrived in the city following a cross-country tour with the Goddess.
Chen says this fiberglass version, constructed in his studio in the Mojave Desert town of Barstow, is a prototype for a colossus he hopes to cast in bronze. This would stand a symbolic 64 meters—for June 4. "6-4" is popular code for the massacre in China, where it remains a forbidden topic. With its base, it would stand 89.64 meters, referencing the year of the massacre. At this height, it would rival the Statue of Liberty, which stands 93 meters, ground to torch.
Chen, amiable and with slightly disheveled hair, states ambitiously, "I hope to move it into China when there is democracy there." Of course, he hopes to raise it over Tainanmen Square—specifically, at the site of Mao Zedong's mausoleum, which now overlooks the square on the south. "We should move Mao out, like they moved Stalin from Red Square," he says. "We should build a memorial to democracy there."
While followers of the Falun Gong meditation practice frequently have tables set up in Chinatown protesting persecution of their kind in the People's Republic, images of the 1989 pro-democracy movement are considerably rarer. The side of the truck that carried the fiberglass statue displays photos from those fateful days in Beijing a generation ago—tanks advancing on protesters, residents coming to the aid of the stricken.
New York was the second-to-last stop on the Goddess' tour. It left Los Angeles on May 14, after a display outside that city's Chinese consulate. It then moved on to stops in Las Vegas, Denver, Chicago, Cleveland, Boston, and the Yale campus in New Haven before arriving in front of the Isaiah Wall across First Avenue from the United Nations on May 27, and then down to Chinatown three days later. The last New York stop was a June 3 rally near Times Square, before moving on to a culminating rally in Washington DC on the 5th.
And before the dreamed-of day when the bronze colossus can rise in Beijing? Chen names Freedom Square in Taiwan's capital as a possibility. He says he was in talks a few years ago with the local government of Taiwan's Jinmen Island—also known as Quemoy, the scene of the 1958 crisis when it was attacked by Chinese forces. But before he could raise the statue there, Taiwan's then pro-China government interceded. With the new and more independent-minded Tsai Ing-wen now in office (Taiwan's first woman president), Chen may try again.
Chen was born in Hangzhou, Zhejiang province. That's just up the coast from Fujian, from where many of Chinatown's newest residents hail. He worked in public sculpture for municipal governments in the '80s, and his statues are still standing in the squares and parks of Zhejiang. When asked what they depict, Chen answers: "Chinese culture and beautiful ladies."
He arrived in New Zealand in 1988—six months before the massacre. The news changed his life. "After '89, I became committed to human rights," he says—and this was reflected in his work. "No more just beautiful women," he adds with a smile.
Chen's political commitment has taken him to some global frontlines. He takes out his cellphone to show me a picture of himself standing with Syrian revolutionaries in besieged Aleppo, with a banner reading "CHINESE PEOPLE SUPPORT SYRIAN PEOPLE," in English, Chinese and Arabic. Another shows him brandishing a rifle with a group of Free Syrian Army fighters. Chen says he went to Aleppo in 2012 to do an art installation in support of the Syrian revolution, but did end up helping to defend the city from forces of Bashar Assad's regime.
"China is supporting the dictator," he said. "So I wanted to show my solidarity."
The June 3 rally off Times Square was organized by the Democratic Party of China, which was launched as an opposition party in the People's Republic in 1998. But it was never allowed to officially register there, and hundreds of its members were arrested—many still imprisoned today. Since 2010, its headquarters have been in Flushing, Queens—although it has chapters in several countries around the world touched by the Chinese diaspora.
One of its sibling organizations is the Federation for a Democratic China, whose president Sheng Xue came down from Toronto for the raising of the statue in New York. She is a veteran of the 1989 pro-democracy movement, and had to flee China in the subsequent crackdown.
Sheng paints a grim picture of her home country today. "At least when I was there, we had security," she says, referring to the so-called "iron rice bowl" and guarantees for education and healthcare. "They took all that away. The people no longer have protection. The whole country is like a jungle—you have to fight for your living. They opened the only door in China—the economic door. And everybody ran for that. But it led to the jungle."
And some tentative moves toward greater political openness in recent years are being rapidly undone under President Xi Jinping, Sheng asserts. "It looks worse than 1989."
Arranged at the foot of stage at the Times Square rally were candles forming the Chinese characters for 6 and 4. Above the stage was a banner with a fanciful photo-shopped image: Chen Weiming's bronze goddess towering over Beijing's historic Marco Polo Bridge, lined with stone lions.
———
This story first appeared June 9 in The Villager
Photo by Robert Lee, Asian American Arts Centre
From our Daily Report:
China: victory for anti-pollution protesters
CounterVortex, June 30, 2016
Hong Kong: 'localists' boycott Tiananmen vigil
CounterVortex, June 5, 2016
China enters Syrian war?
CounterVortex, Sept. 26, 2015
China: changing of the guard —amid same old repression
CounterVortex, Nov. 15, 2012
See also:
THE FIREWALL CAFE CONTROVERSY
Chinese State Censorship Reaches Manhattan's Lower East Side
by Bill Weinberg, The Villager
CounterVortex, April 2016
—————————-
Reprinted by World War 4 Report, July 2, 2016