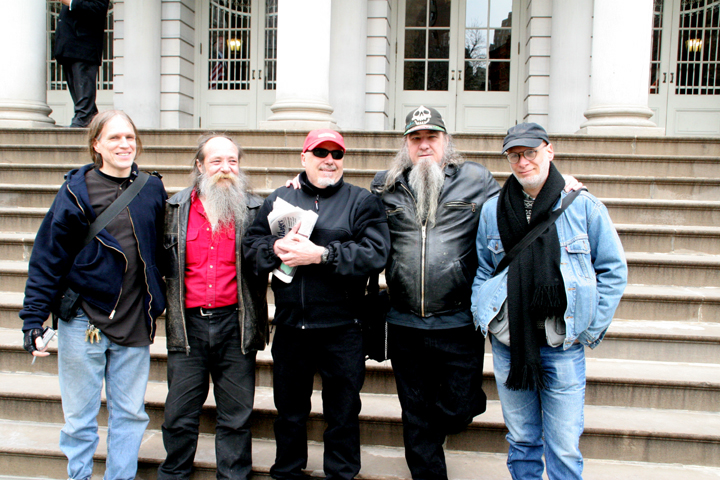 Tompkins Square anarchists ride again
New York Press, AM New York, The Villager/Downtown Express and the NO! Art blog were among the media that turned out for a press conference on the steps of New York's City Hall April 3, where a grizzled and aging bunch of veterans of the 1988 police riot in the Lower East Side's Tompkins Square Park—including your intrepid blogger—spoke out against the imminent installation of security video cameras in the once-embattled park.
The irony of having to pass through a police checkpoint and metal detector to gather on the steps of City Hall—where there was free public access before 9-11—was not lost on the speakers. Nor were recent revelations of hanky-panky in high places in New York state. Event organizer John Penley said Lower East Side residents would accept surveillance cameras in Tompkins Square "if Mayor Bloomberg will allow us to put cameras in his residence and Gracie Mansion and especially in his office." On a more serious note, he recalled that Bloomberg's proposal to place cameras in the city parks is supposedly contingent on approval from neighborhood residents—and called for raising voices of dissent to call Hizzoner on his promise.
Your blogger was asked to speak as the voice of historical memory at the affair, and briefly delineated the history of riots and uprisings around Tompkins Square, with the highlights being 1857, 1863 (Civil War draft riots), 1874, 1877 (national railroad strike), 1967 and 1988—with a mention of the park being turned over to "Victory Gardens" during World War II.
Echoing the theme of historical continuity was Chris Flash, editor of the LES underground newspaper The Shadow, who said: "Gentrifiers come and go, but we're still here, we're still active, we've never been chased out. The city has displaced many of us, but it's important to remind people of a time when the neighborhood rose up."
Video artist Clayton Patterson, editor of the recent anthology Resistance: A Radical History of the Lower East Side, struck a more somber tone. Citing Charlie Parker, Jackson Pollack and Lou Reed as examples of the Lower East Side's tradition of cultural fecundity, he said wistfully that "they're all connected to cheap rent."
Organizers are currently petitioning city authorities for a permit to hold a concert in Tompkins Square the first weekend of August to commemorate the Aug. 6, 1988 police riot.
See our last posts on the surveillance state and paranoia in New York City.