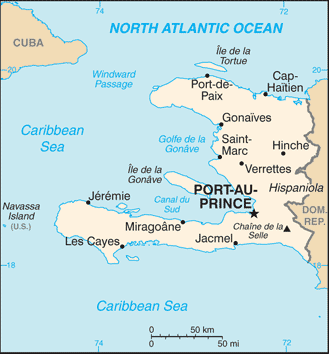 Guy Philippe, a former paramilitary boss and coup leader who was elected to Haiti's Senate in November, was arrested by the DEA on Jan. 5—days before he would have been sworn into office and obtained immunity. Philippe had been wanted by the US since 2005 on charges of conspiracy to import cocaine and money laundering. He was popped by Haitian police and turned over to DEA agents immediately after appearing on a radio show in Port-au-Prince, and promptly flown to the Miami to stand trial. On Jan. 13, he pleaded not guilty to all charges in US Court for the Southern District of Florida, asserting both that the case against him is politically motivated and that he already has immunity as an elected official.
Disconcertingly, many supporters showed up at the hearing at the Miami federal courthouse, including some pillars of Haiti's political establishment. Among these were Haitian Sen. Evince Francois, who told reporters: "We are here to support Senator Guy Philippe. We all feel like he is innocent. We are here to let him know we stand up behind him. We think this is all politics."
Philippe is a former military officer and regional commander of Haiti's National Police who was trained by the US army in Ecuador in the 1990s. His police forces were later accused of extrajudicial killings. He was exiled after taking part in an attempted coup in 2000, and re-emerged as part of the gang leading the 2004 coup that finally removed President Jean Bertrand Aristide from power. As a paramilitary enforcer for the coup gang, he was accused of further rights abuses.
His network also apparently doubled as a cocaine ring, and survived the restoration of a semblance of political normalcy to Haiti. US prosecutors say his handpicked collaborators in the National Police provided security for Colombian cocaine shipments as they were transferred to traffickers in Haiti for export to the United States, the Miami Herald reports.
Haiti has never really recovered from the 2004 coup, and has faced repeated political crises since then. The new Haitian Senate, elected in November, was sworn in on Jan. 9, with new president Jovenel Moise due to take office in February. This tentatively resolves a year of impasse in which elections were put off due to concerns over political violence and unrest. Haiti has been led by an interim president since February 2016, when Michel Martelly stepped down at the end of his term—without a new president having been chosen. Throughout this period, Philippe has been an outspoken voice on Haiti's hard right, openly calling for repression against protesters.
Cross-post to High Times and Global Ganja Report
Map: Perry-Castañeda Map Library