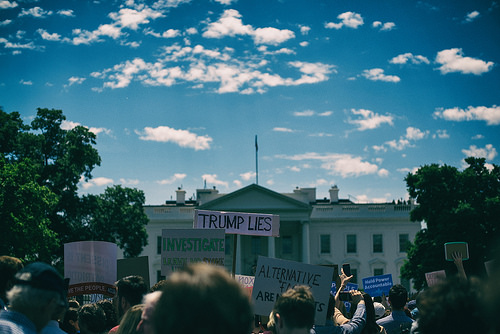 Did Trump Commit Them?
by Marjorie Cohn, Jurist
Deputy Attorney General Rod Rosenstein has responded to the crescendo of outrage by appointing former FBI director Robert Mueller as special counsel to investigate "any links and/or coordination between the Russian government and individuals associated with the campaign of President Donald Trump'' and "any matters that arose or may arise directly from the investigation'' as well as any other matters within the scope of the Department of Justice (DOJ) regulation on special counsel appointments.
"In my capacity as acting attorney general I determined that it is in the public interest for me to exercise my authority and appoint a special counsel to assume responsibility for this matter,'' Rosenstein stated.
"My decision is not a finding that crimes have been committed or that any prosecution is warranted. I have made no such determination. What I have determined is that based upon the unique circumstances the public interest requires me to place this investigation under the authority of a person who exercises a degree of independence from the normal chain of command,'' Rosenstein added.
Independent counsel Kenneth Starr thought he had "substantial and credible" evidence against President Bill Clinton in 1998. Starr turned over the results of his investigation to the House of Representatives, who then initiated impeachment proceedings.
As evidence of President Donald Trump's malfeasance emerges, the old adage that the cover-up is worse than the crime may once again prove true.
Continue Reading

HIGH CRIMES AND MISDEMEANORS