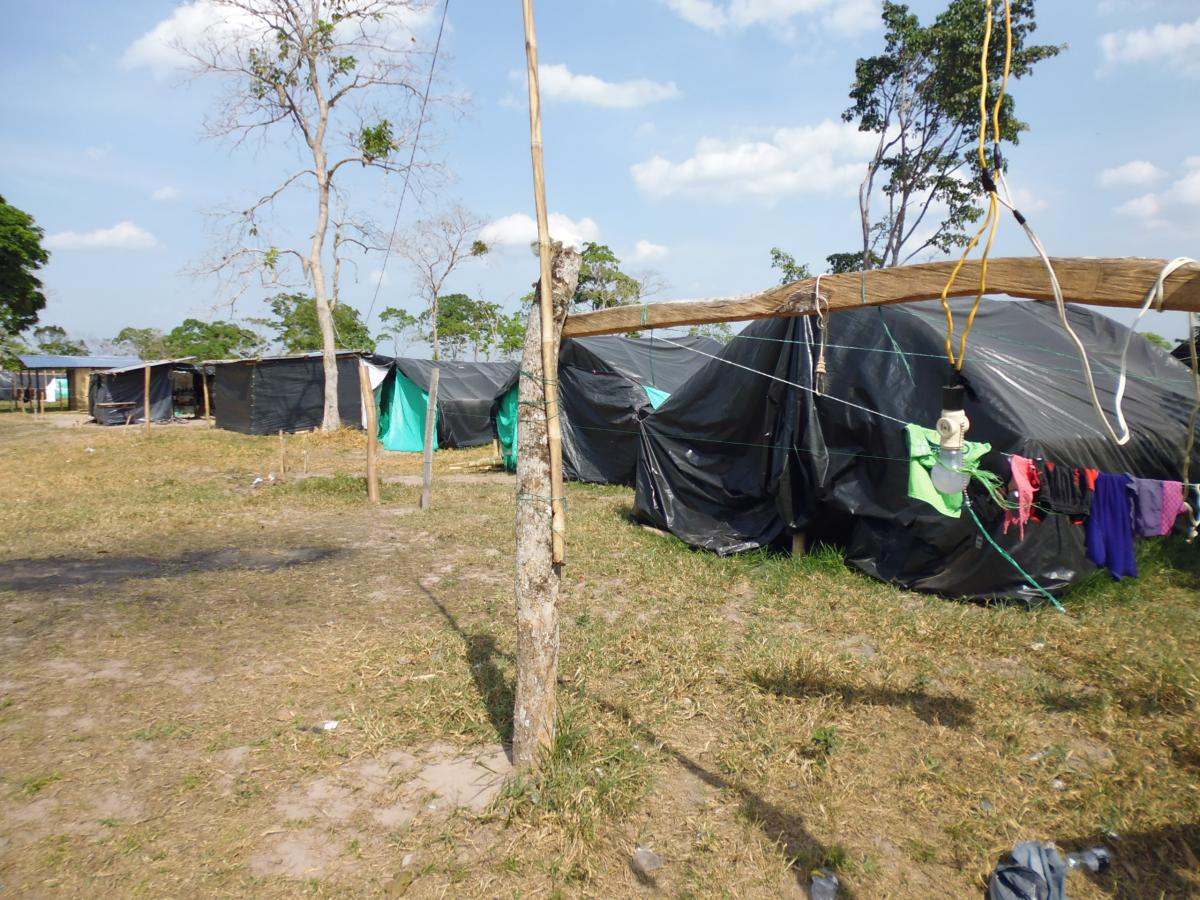 Colombian Poor Reclaim Lands Slated for Military Base
by Dawn Paley, Upside Down World
FORTUL, COLOMBIA — Holding down an occupation for five months isn't easy. Doing so in Colombia, even less so. But members of the community of Héctor Alirio Martínez in the municipality of Fortul, near the border with Venezuela, have raised the stakes even higher: they're occupying land owned by the Ministry of Defense. The 100-hectare terrain now spotted with wood and plastic homes was slated to become a large military base.
Locals say the land originally was purchased by Occidental Petroleum in order to build a large new base to coordinate protection of a new oil pipeline which passes less than a few hundred meters from the lot.
"This land belongs to the Ministry of Defense, it was purchased and sponsored by Oxy, so we as good people from Arauca said that the most viable thing is to take over this plan, and see if the Minister of Defense will give it to us over time, many people needed this land," said Jhon Carlos Ariza Aguilar, the vice-president of the community of over 2,000 families. They began the occupation on November 26, 2013.
I met with Jhon and other members of the community on a hot February afternoon, weeks after the community was supposed to have been removed by force. On January 20, the army entered the shack settlement with a tank, and an eviction was scheduled for February 4, but that date came and went with community members in an uneasy calm about what would take place next.
Fortul is a municipality in the Colombian foothills, between the mountains and the wide open plains, and not far from the Arauca River, which marks the border with Venezuela. This oil-rich region is also deeply conflictual, on the road over, soldiers hung around a handful of tanks, and army presence is ubiquitous. ELN and FARC guerrillas also patrol the area and have carried out attacks on Caño Limon-Covenas pipeline which serves Occidental's nearby Caño Limon field. Under the heavy afternoon sun, a group of men lounged under a handful of trees, and women relaxed under a shelter beside them. Identical palm shacks protected by green cloth roofs dotted the area.
As we spoke, a taxi-cab arrived, with a mattress strapped to the top and furniture in the trunk, indicating another family permanently moving into the area. Ariza Aguilar indicated that about one in four members of the occupation was an internally displaced person, forced out of their homes because of the ongoing conflict.
"Oxy bought this land and they gave it to the Ministry of Defense," in 2010, said Jhonny Alexis Castro, the Fortul representative of the Joel Sierra Human Rights Foundation. Oxy did not respond to a request for comment.
The Oleoducto Bicentenario, a meter-wide oil pipeline that will eventually travel 960 kilometers from Casanare department to the port of Coveñas, is three minutes from the occupation by road; on the back end of the community the underground pipeline is but a few hundred meters away. "That's why they wanted a battalion here, but there is a school very close, having a battalion here would mean having a checkpoint right in front of the school," said Castro.
Today, children from the settlement are already attending the school. "What matters is that the children go and study, it doesn't matter if we have electricity or not, that [they study] is the important thing," said Ariza Aguilar. He invited me to swim in a river nearby, which provides those living in the community with a place to gather water, wash clothing, and bathe.
The community of Héctor Alirio Martínez is the first permanent occupation of land owned by the Ministry of Defense in Colombia. The community takes its name from a local peasant activist who was pulled from a house at dawn and shot to death by soldiers along with two others on August 4, 2004. "The problem is that Arauca is considered a 'red zone' in Colombia, and any leader who orients people, who even just teaches them how to go to city hall [to manage their paperwork], that's enough to say they're a guerrilla and hunt them until they kill them," said Ariza Aguilar.
Community members know that taking part in the occupation is an extremely risky activity, but for many the need for housing and the ability to send their children to school outweighs the risk.
———
This story and photo first appeared May 11 on Upside Down World.
From our Daily Report:
Colombia: campesino strike in oil zone
World War 4 Report, Feb. 25, 2013
See also:
A REBIRTH OF HOPE IN COLOMBIA
The Return of the Patriotic Union Party
by James Bargent, Toward Freedom
World War 4 Report, April 2014
—————————-
Reprinted by World War 4 Report, June 16, 2014